B.
Among the sandhills by Adrian Stokes
Collection
This article first appeared as 'Sandhills painting's life as nomadic as artist's' in The Press, 15 August 2017.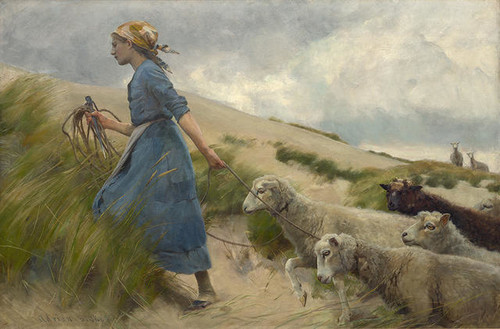 The English painter Adrian Stokes (1854–1935) travelled much, and often with the seasons. Basing himself from 1876 while in his early twenties at Pont-Aven, an artist colony in Brittany, France, he found a life and painting companion in the Austrian-born Marianne Preindlsberger, who arrived at Pont-Aven in the summer of 1883. Artist colonies were a phenomenon of the period, and with their regular migratory tide of British, North American, Australasian and continental painters often invited cross-national unions. Stokes and Preindlsberger were married in the following summer in Austria, at her birthplace of Graz, and (after an extended honeymoon on the island of Capri in Italy and a stay in Ireland) spent the next two summers at the artist colony at Skagen, a fishing village on a rugged peninsula at Denmark's northernmost tip.
There at the invitation of the Danish painter Michael Ancher, whom they'd met at Pont-Aven, the Stokeses worked and socialised comfortably with the Skagen artist set, though Adrian was later described unflatteringly by one, the painter Karl Madsen, as a 'typical John Bull, fat, like a bulldog, who painted landscapes – featuring sand dunes and sheep – which were typically English in colour and treatment.'
Returning to England in 1886, they settled at another artist colony, at St. Ives, Cornwall, in 1887. Adrian Stokes' painting of a Danish shepherdess scaling Skagen's dunes was shown that year at the Grosvenor Gallery's summer exhibition in London, titled 'In the Sandhills, Jutland'. Exhibited again in 1887 in Liverpool (priced at ₤105, but unsold), it travelled next to Melbourne to become part of the British art display at the 1889 Centennial International Exhibition, and then Dunedin for the 1889–90 New Zealand and South Seas Exhibition. There it found a buyer in Captain Christopher Garsia, a retired army officer and Crimea veteran who was also a founding member of the Canterbury Society of Arts; he sold it to the society for ₤60 in 1902.
Among the Sandhills was for many years on loan to the old homestead at Mona Vale, in Merivale, Christchurch, and is said to have been a popular background for wedding photographs.