B.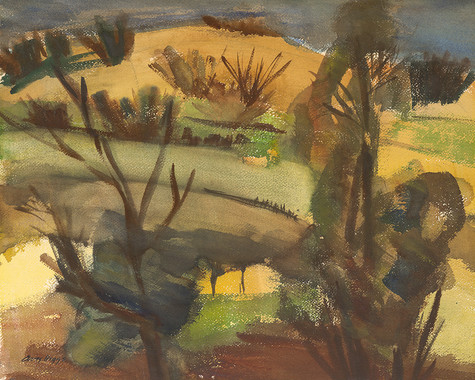 In Memory of Avis Higgs (1918 - 2016)
Blog
With the news that ground-breaking textile designer and painter Avis Higgs (1918 – 2016) died recently, we'd like to share this watercolour of hers from our collection.
Born in New Zealand, Higgs was head designer for the Sydney firm Silk & Textile Printers from 1941 to 1946 and was named as one of the five most important Australian designers of the 20th century by the Australian Ministry of Culture. At a time when most commercial fabric design in this part of world was based on European precedents, Higgs was acclaimed for original textiles inspired by her surroundings, often including references to Pacific and Māori culture. In 2001, her life and work were the subject of Avis Higgs: joie de vivre, a survey exhibition and accompanying publication by design historian Douglas Lloyd-Jenkins. Find out more about her life and achievements at her website.