B.
Kauri Landscape by Colin McCahon
Collection
This article was first published as 'McCahon's brilliant prismatic dance' in The Press, 15 November 2016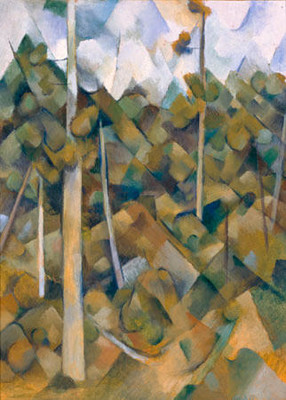 In June 1953 shortly after shifting from Christchurch to Auckland the painter Colin McCahon wrote to his close friend and supporter Ron O'Reilly "Now am the proud possessor of a house at Titirangi, a patch of native bush and about 20 odd very lovely kauri trees and a sunporch and sundeck looking right into the tops of a nikau palm grove. A lovely little beach about 200 yards away and shops and so on about 10 minutes walk up hill … We have nothing left to buy even a table, let alone such luxury items as chairs. Not that that matters."
McCahon's shift north was a pivotal moment in his career. In Auckland he had the security of a full-time job as curator at the Auckland Art Gallery but he also viewed the shift north as an opportunity to develop his painting in new directions. The kauri forest surrounding his new house at Titirangi, and the Waitakere ranges lying just to the west, provided the inspiration he sought. Here he was able to develop his growing interest in Cubism and abstraction which the 1955 oil painting Kauri Landscape highlights. Vertical kauri tree trunks emerge from a densely forested landscape that has been broken up and fractured into what the poet Charles Brasch described as "a kind of brilliant prismatic dance. You look at the forest from the outside, as it rises like a wall before you, built up of cylinders and cubes of lighter and darker colour, with its wild jagged outlines against the sky."
Brasch was certainly fond of McCahon's Titirangi paintings acquiring at least eight examples from the artist which he later bequeathed to the Hocken Collections in Dunedin. Six of these are currently on display at the Christchurch Art Gallery alongside Kauri Landscape in the exhibition 'From the sundeck: McCahon's Titirangi' which provides a fascinating insight into McCahon's development of cubism during the mid-1950s.
Like Brasch the Canterbury Public Library's City Librarian Ron O'Reilly was also very keen on McCahon's Titirangi period. He acquired three paintings completed at Titirangi for the Library's art lending collection, two of which are now in the Christchurch Art Gallery's collection including Kauri Landscape. It's quite something to think that this painting was available for library subscribers to borrow - to take home and hang on a wall - on a monthly basis for a small fee. I'm just pleased that they saw fit to return it.