B.
Painting on the wall
Behind the scenes
Between the late 1940s and 1960s there was a significant number of new murals, both painted and sculpted, created to adorn buildings in Christchurch.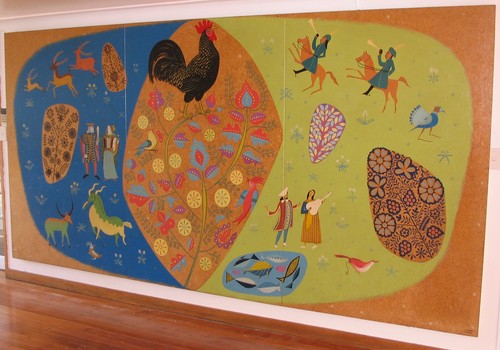 The architect Peter Beaven regularly commissioned artists to produce murals for his designs at the time. Artists, including Tom Taylor, Ria Bancroft, John Coley, Quentin MacFarlane, Russell Clark, Tom Field, Norman Barrett, Alan Pearson and Ted Bracey, were all commissioned to paint or sculpt public murals in Christchurch (most now unfortunately destroyed) but perhaps the most prolific muralist in Christchurch was Bill Sutton. The mural above was a collaboration between Bill and Ted Bracey for the Dental School next to McLean's Mansion on Manchester Street which I think was completed around the mid to late 1950s. The mural now lives behind a plain white hardboard panel but I was fortunate to view it in person when it was exposed due to renovations some years back. I was always at a loss as to which particular parts were painted by Bill and Ted but all is revealed in the photograph below - the quirky little red bird being painted by Ted is a highlight of the mural. I'm not sure what Ted and Bill's brief was but it sure is a bright, colourful painting on the wall to liven up the murder house.