B.
Proceed and be Bold: The Pear Tree Press
Behind the scenes
The Pear Tree Press is the latest in a series of book related exhibitions held in collaboration between the Christchurch Art Gallery and the Christchurch City Libraries at their Peterbourgh street branch.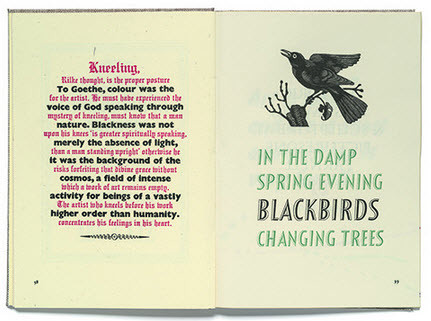 Featuring printed work by New Zealand's leading letterpress printer, Tara McLeod, Proceed and be Bold: The Pear Tree Press presents a selection of McLeod's highly illustrative typographical designs. The books from Pear Tree Press are beautifully designed, printed and bound but my favourite part of this show is the colloborative nature of much of McLeod's work: the way in which he interprets and designs poetry to the printed page and incorporates imagery, most notably the splendid book by Brian Gregory and Richard McWhannell titled In Winter Vineyards (1999). This remains one of McLeod's most ambitious projects, featuring imagery printed from McWhannell's original woodblocks interwoven amongst the Gregory's poetry - one of the gems in the Christchurch Art Gallery's artists book collection.
The show runs for another week so if you need to borrow or return any library books make a trip to the Peterborough Street Library and check it out.
You can also see more of Mcleod's work at the Pear Tree Press website.