B.
Art and politics
Behind the scenes
As New Zealand prepares to go to the polls on the eve of what has surely been the most colourful election campaign season in the nation's history, we present a selection of works from Christchurch Art Gallery's collection on the theme of politics.
Dawn/Water Poem represents Ralph Hotere's visual interpretation of Bill Manhire's poem, 'Dawn, Water'. It's one of a series of visual/verbal collaborations between Manhire and Hotere, and was made during the time of French nuclear testing in the Pacific and its accompanying political protests. The various elements of the painting -- the numbers suggesting the stations of the cross; the large X, a maritime 'keep-away' symbol; the repeated sunrises in which the word MURUROA appears like a white flash; the fiery red ground -- convey a broader narrative of suffering and conflict.
Christine Webster's Red Yolk is from a series titled 'Tiananmen Square'. It was made in response to a photograph from the 1989 Tiananmen Square Massacre, in which martial law was enforced in Beijing against a student-led popular uprising. The dust mask worn by the female subject suggests readings of the image as both a masking of individual identity and a suppression of voice.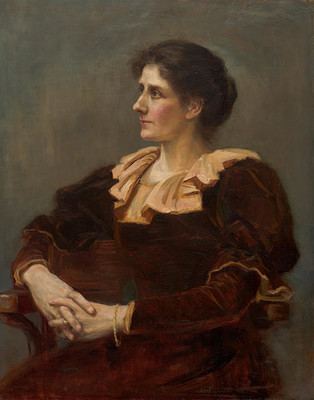 Dora Meeson (1869-1955) was an Australian artist and a member of the British Artists Suffrage League, creating posters, cards and banners to support the suffrage movement which claimed the vote for women. Meeson, who studied at the Canterbury College School of Art in Christchurch, designed and painted the Australian Women's Suffrage Banner carried in the Women's Suffrage March in London in June 1908. In 1920 she became the first Australian woman painter to be a member of the Royal Institute of Oil Painters. Her subject here is Rose Elizabeth Marsh, the mother of Dame Ngaio Marsh, the best-selling New Zealand crime novelist and Shakespearean producer.
The exhbibition text from that's obvious! that's right! that's true!:
...
The collective et al. has exhibited widely both nationally and internationally to great acclaim.
This exhibition continues their exploration of 'superfiction' by combining words, industrial furniture and video projections to create artworks that mirror political structures.
The collective represented New Zealand at the 2005 Venice Biennale with its critically acclaimed installation the fundamental practice.
Recent works have addressed fundamentalist practices and ideological schemes, and their impact on societies.
The artists' approach is to use fiction and appropriation to mirror various political and belief structures. The work for Christchurch Art Gallery will continue this process of exploring aspects of super-fiction as conceptual and visual artworks.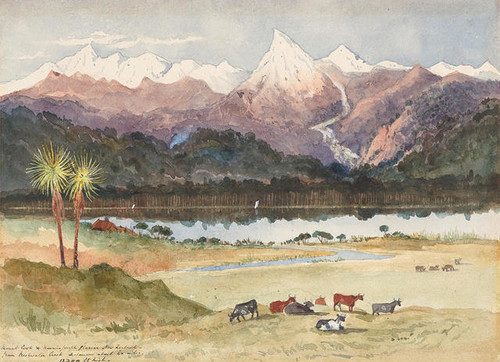 Sir William Fox (1812-93) was an early topographical artist who trained as a lawyer and worked as a journalist and surveyor in New Zealand. He explored and painted many remote areas as an agent for the New Zealand Company. He became Member of Parliament for Wanganui in 1855 and for Rangitikei in 1861, and was elected New Zealand's second Premier [Prime Minister] in 1856, a position he held on four separate occasions between 1856 and 1881. William Fox painted a number of scenes of Mt Cook and Franz Joseph during a trip to the area while he was in his third term as New Zealand Premier.
Known for his biting wit, dark humour, and incisive political comment, Barry Cleavin is a master printmaker who was based in Christchurch for many decades.
George Cruikshank (1792-1878) was a British illustrator and cartoonist who gained widespread attention for his caricatures of British royalty and political satires. He illustrated the first English language version of Grimm's Fairy Tales and many books for Charles Dickens. Here he satirises the scandal which developed around the Pains and Penalties Bill of 1820, which was effectively a public trial of Caroline of Brunswick, the wife of King George IV, an unsuccessful legal strategem designed to dissolve the marriage. Cruikshank's Preparing the Witnesses is one of many historical works of political satire in Christchurch Art Gallery's collection.