B.
Tune up
Behind the scenes
Michael Parekowhai's piano not only looks good – it sounds fantastic. I spoke to Christchurch piano tuner Wytze Hoekstra, who's the man whose job it has been to keep the instrument sounding its best throughout its time here.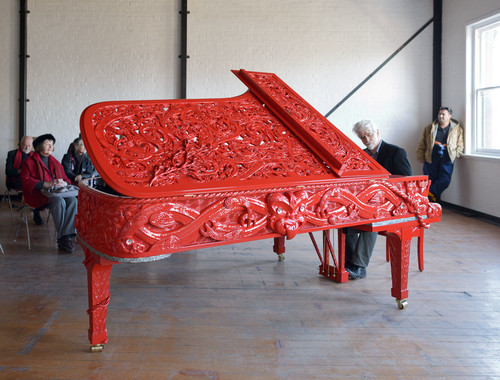 How often does the Parekowhai piano need tuned?
Like all pianos used for public performances, this piano needs tuning every two to three days and before any concert.
Does it hold its tune like a 'normal' piano, or have the carvings changed its structure?
In a technical sense this piano almost the same as a regular Steinway D concert grand piano. There are two exceptions, both related to the carved top lid: because material has been removed from this lid (you can see right through it) , it does not reflect the instrument's sound in the way it is intended to do. To compensate, the hammer strike distance has been increased to give the piano more power. Secondly, after carving, it was noticed that the lid flexed too much, so a second carved "prop" was fitted to support the lid when it is open.
It's perhaps unusual to have the instrument rather than the performer take centre stage in a performance - would you agree with this, and does it change the experience of playing for a pianist?
It has been marvellous to have so much focus on a beautiful concert grand, accessible to all. We have lost so many instruments and venues - I think many Christchurch musicians are very grateful to Michael for making this special instrument available to players and listeners. Having had a concert Steinway centre stage in the Christchurch arts scene for over a month is helping with the new sense of optimism over the future of music in the city.
Does a piano like Parekowhai's present a challenge to pianists?
The bronze grand pianos across the road - they do! But the carved one upstairs has been beautifully restored and restrung and all the pianists I have spoken to have thoroughly enjoyed the experience of playing on it.
You performed briefly for Gallery staff before Michael's introductory talk and played beautifully - do you perform regularly?
Yes. I get a lot of practice because I test and demo each piano I tune for my clients. I also play in two ensembles: Tango La Luna ( laluna.co.nz ), an all acoustic tango sextet; and a European Jazz group, the Hoekstra-Kime-Hobson Trio.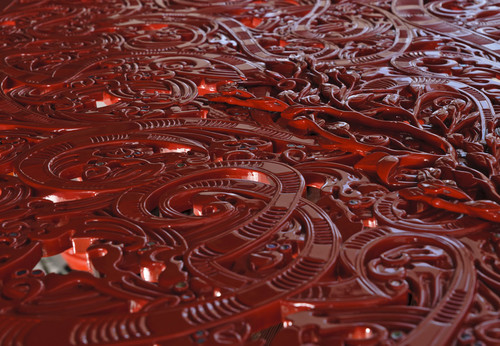 Wytze Hoekstra, is a well-established piano tuner and technician in Christchurch. A member of the Piano Tuners and Technicians Guild of New Zealand, Wytze is always on call to do technical work – tuning, regulating and voicing – in people's homes. He also does tuning for the University of Canterbury, the Christchurch and New Zealand Symphony Orchestras, visiting pianists as well as celebrities like Michael Houston, Dame Kiri Te Kanawa and Peter Jackson. You can visit his website here.