B.
A new Cathedral
Behind the scenes
New to the Gallery: an etching dated 1922 by John Mills Thomasson (1893–1969) was purchased recently for the collection.
As a convincing artistic depiction of an extremely well-known location – one seen mostly in postcards or tourist brochures – it is perhaps surprising to realise that it is just the second straightforward view of the cathedral to enter the collection.*
John Mills Thomasson was born in Bolton, near Manchester, England and became a graduate of the Manchester Municipal School of Art. Settling in Christchurch after serving in World War One, Thomasson was based in Christchurch for most of his career, and worked here as an illustrator and commercial artist, including for a period with The Sun newspaper. Thomasson began teaching at Christchurch Technical College in 1926. His lecture notes (discovered by Gail Ross and gifted to the Gallery library archives) indicate that he offered classes in wood-engraving, lithography and bookplate design. The etchings that Thomasson produced and exhibited in Christchurch included city views, North Canterbury landscapes and scenes from the Middle East following a tour.
With a plate imprint of 209 x 328mm, Cathedral Square, Christchurch is larger than most locally produced etchings from this period. It contains some lovely detail, including cars and people; the Press Building; the Godley statue in a previous location; and the old neoclassical Bank of New Zealand, designed in 1866 by Melbourne architect Leonard Terry and demolished almost a century later. Until recently this view would have remained mostly recognisable.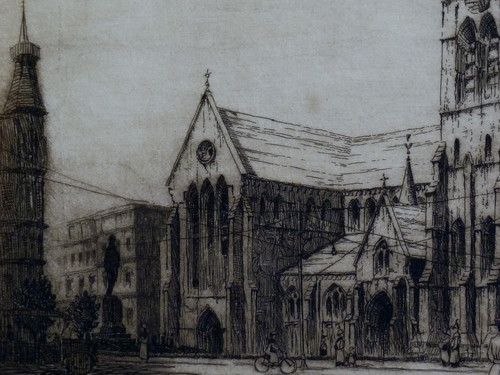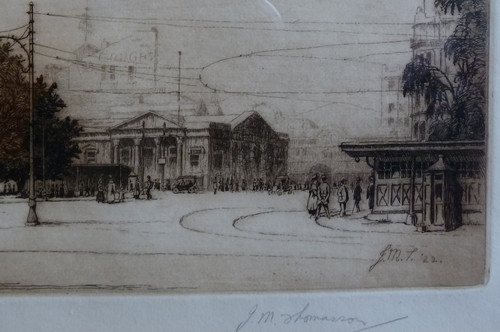 * Several photographs by David Cook and an etching by James Fitzgerald include details of the cathedral.