B.
One way traffic
Behind the scenes
Madras Street is open again! And we're very pleased about that, as the front door to our Outer Spaces gallery upstairs at NG happens to be on the one-way heading north, so it's even easier for you to get there and see Breathing Space.
In fact, Mayor Bob Parker and CERA chief Roger Sutton even had a cycle race to mark the occasion, though it must be said that Roger was more suitably attired. Anyway, without wanting to contribute to autumnal air pollution or general traffic congestion (Auckland peak-hour ain't got nuthin' on our chicane and cone-ridden streets), it's worth a drive down Madras as it offers all-new views of the crazy inner-city landscape. I came across this near Latimer Square, the side of a building revealed by the demolition of another.
Related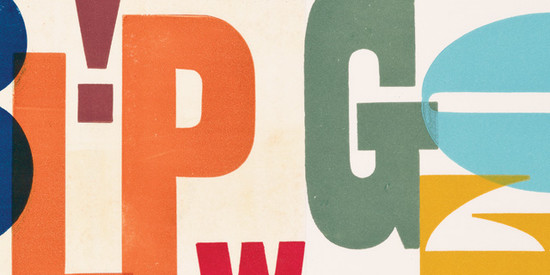 Pressed Letters: Fine Printing in New Zealand Since 1975
An exhibition presenting some of the finest examples of letterpress printing produced in New Zealand from 1975 to the present.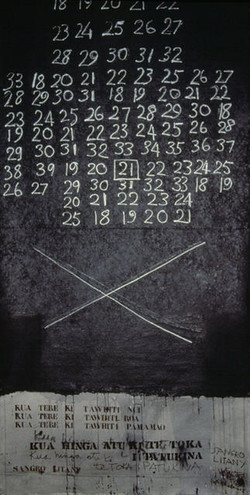 In 1962 Ralph Hotere visited his brother's grave in the Sangro River War Cemetery in Italy. While there, he copied from headstones the ages of the Maori Battalion soldiers who, like his brother Jack, were killed while attempting to cross the Sangro River in late 1943, during World War II. Hotere has formed the numbers into a Greek cross, with a large 'X' shape 'crossing' out the space beneath them. Together, these images suggest both a private requiem and a public protest at the futility of war.
Across the bottom of the canvas, Hotere has stencilled phrases from an ancient Maori chant that calls for the return of the godwit – a symbol for the spirits of the dead – to familiar shores. The paint runs and falls like rain, blood or tears.
Hotere was born in Taikarawa, Northland, and was widely regarded as one of New Zealand's greatest artists. He is represented in public and private collections throughout New Zealand. He lived in Port Chalmers, near Dunedin, where he died in 2013.