B.
A working holiday to Cass
Behind the scenes
Louise Henderson (1902-1994), whose birthday it is today, spent ten days at Cass with fellow artists Rita Angus and Julia Scarvell in May 1936.
You can see Henderson's, Angus's (using her married name Cook) and Scarvell's entry at the bottom of this page of the Cass Hut's visitor's book. Ten days drawing and painting in the mountains: not a bad break from the trappings of Christchurch and in May the air would certainly have been crisp and clear, a feature which comes through in both Angus's and Henderson's Cass works.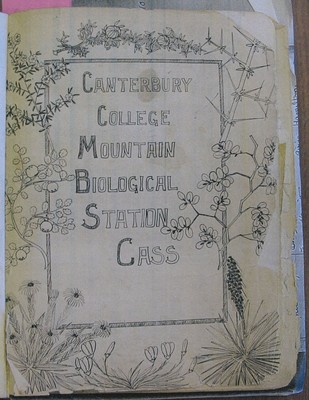 The trip inspired one of New Zealand's best known paintings, Rita Angus's Cass but Henderson also produced several paintings of Cass and the surrounding landscape, many of which are yet to be located. In the 1936 Group Show (you can download the catalogue here [PDF: 2MB]), Henderson exhibited no fewer than five paintings of Cass including one of the Cass railway station; where is it today? It would be amazing to compare this to Angus's work. The Christchurch Art Gallery does own one of Henderson's Cass paintings, Plains and Hills, which is strikingly similar to Angus's style with the crisp portrayal of tussock, pine trees and mountain slopes - a landscape that has been invaded by the modern era with the presence of power poles. These also make an appearence in Angus's Cass.