B.
Digital forensics
Behind the scenes
I'd been meaning to nail the location of Petrus van der Velden's moody 1890 charcoal drawing, 'Near Sumner', for a while...
The geological features described in charcoal felt familiar, and definitely like the Sumner/Redcliffs region. If this was nearby, it wouldn't be hard to find.
'Near Sumner' appears not to have been the work's original title, but more likely an educated guess applied to it in the 1960s or 1970s. Van der Velden had started out in Sumner after arriving here from the Netherlands in 1890, staying for several months with his friend Gerrit van Asch, founder of the school now known as the van Asch Deaf Education Centre.
Stuck at home one day recently with a heinous cold, I took a short stroll to see if I could find where the drawing had been made.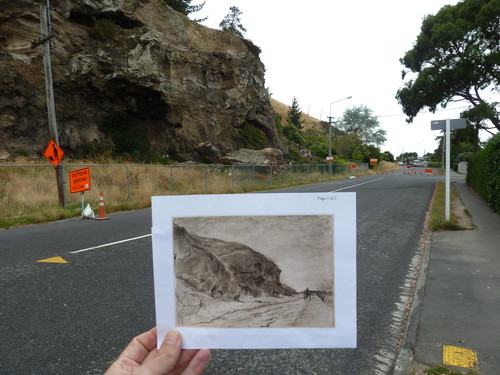 So we're in Sumner on Wakefield Avenue, looking north, not far from the corner of Campbell Street. The general form of the hill is close - overall it seems a pretty close match. The drawing shows men at work in a quarry. A comparison to the location as it now appears suggests that quite a lot of rock has been removed. There is also a large fresh pile or rock debris - earthquake debris - at the base of the volcanic rock face. The ancient shape of this geology has therefore very recently changed.
The 1890 drawing captures the rock's distinctive outline, and a small, sharp point that juts out to the right. If this is the place, this sharp point is now gone. Google Maps to the rescue; the roving camera on wheels that moved through Sumner one sunny morning in semi-recent years. The camera shows that the small jagged point was still there.
The location is about a hundred metres from the van Asch school - just down the road from where van der Velden had first stayed.