B.
Ode to Shag Rock / Rapanui
Behind the scenes
We had followed its progress. Reduced to easily half its size after February 22, Shag Rock was made Shagpile as well as something ruder.
Structural columns that once had meant support were exposed as broken molars, awaiting undignified extraction. Balancing but precariously angled, they had invited a sense of 'job not yet done': another decent wobble would see it finished. And so came June 13.
Rapanui as it now stands would have hardly figured in Edith Munnings' charming 1880s view of the Redcliffs fisherman's hut. But it's still there, a geological survivor that remains beautiful; a significant landmark for local iwi as well as residents from many different cultural backgrounds.
Related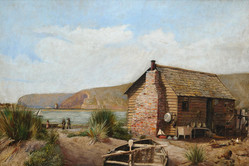 For the exhibition I See Red (5 December 2007 - 23 November 2008) this work was displayed with the following label: The Christchurch area known as Redcliffs, or Te Rae Kura, has been populated for at least 900 years. Kura is Māori for red, and Te Rae Kura means red, glowing headlands. The area was once an abundant source of shellfish, flatfish, eels, bird life and various types of flax, and supported large groups of Māori from the fourteenth century.
Edith Munnings' painting shows Redcliffs in the early days of European settlement. What else do you see here that is red?