Digitised publications
George Dunlop Leslie room card
Download PDF
This room card was created for the exhibition Closer 16 December 2017 – 26 August 2018.
---
Related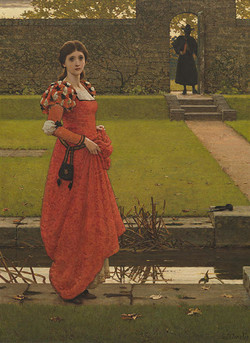 Narrative paintings such as In the Wizard's Garden were extremely popular with Victorian audiences. Loaded with symbolism that referred to the notion of the fallen woman, the artist provided visual pointers to be unpicked and read by the audience. These include the hitched-up scarlet dress, the fallen leaves in the foreground and the shears which, shown with the blades open, suggest a loss of virtue. Contrasted with the innocence of the young woman, the presence of the silhouetted figure entering the garden adds a sinister element. The stream separating the two figures symbolises a barrier between them – her virtue hangs in the balance. Will she remain pure or will she, through the act of crossing the water, succumb to wantonness?George Dunlop Leslie was a successful, prolific artist who exhibited annually at the Royal Academy from 1859; usually theatrical, symbol-laden paintings of young women from a previous age.
(New Dawn Fades, November 2018)
Closer: Old Favourites, New Stories
New perspectives on ten of the Gallery's best-loved paintings.