Exhibition
Margaret Dawson: Amusements
25 March – 1 May 1994
Amusements is an exhibition of recent photographs by Margaret Dawson. It features 12-15 large scale cibachrome prints.
In these photographs Dawson sets out to explore themes of gender politics and art historical representation. She has been known in the past, to appropriate such themes. This time, however, she has chosen less obvious images as her source. The photographs have been inspired by Australian artist Sidney Nolan's Ned Kelly series of paintings.
Dawson was fascinated by the "outsider" role of the outlaw. She sees that there is common ground between the outlaw and traditional woman's roles in the way they are both marginalised. She was also interested in the colonial time frame of the series believing that, for New Zealand many of the perceived behaviour patterns considered appropriate for men and women would have developed at this time. By focusing on this period it offered an opportunity to deconstruct their origin.
Some of the works present a literal tableaux-like reconstruction of one of Nolan' paintings while others are less direct but inspired by the theme. Several of the photographs were shot at Ferrymead to obtain an authentic colonial backdrop of the images.
Creating the settings for these photographs is an interesting side to the making of these images. It involves members of the public working collaboratively with the artist and, at times, presented tremendous logistic challenges. For example, one photograph involved setting a fire which meant Dawson had to get the appropriate permit and appliances to attend the fire. Co-ordinating the people, props, and permit proved to be demanding.
Margaret Dawson is one of a number of women photographers making a significant contribution to the medium in New Zealand. She was born in Blenheim in 1950 and trained originally as a nurse, However, she followed this by attending the University of Canterbury graduating with a Diploma of fine Arts in 1978. In 1981 she completed a Diploma of Teaching and in 1992 a bachelor of art in Feminist Studies. Added to this impressive group of qualifications Dawson has been the recipient of a number of art awards, exhibited in many solo and group exhibitions and is represented in both public and private collections throughout New Zealand. Her work has recently been seen at the Mcdougall in White Camellias and in Women's Lives.
('AMUSEMENTS', Bulletin, No.88, February/March 1994, p.2)
This exhibition was held at the McDougall Art Annex in the Arts Centre.
Related
Canterbury Belles: Margaret Dawson, Julia Morison and Mary Kay
A complex invitation by three artists from Canterbury investigate the means of production of master narratives. The touring exhibition by Margaret Dawson, Julia Morison and Mary Kay explore the constructions of mythologies in relation to the human body and gender.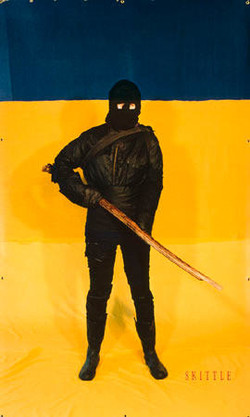 Skittle is an altered and re-staged 'portrait' of the colonial Australian anti-hero and outlaw, Ned Kelly. Part of a series Margaret Dawson called Amusements, the work explores the role of the outsider. Dawson's photographs often consider themes of gender politics and Skittle draws a correlation between the outlaw from society and women in traditional roles. Her contention is that both are marginalized.
Dawson regularly draws on images from art history, and the photographs in Amusements were inspired by a series of paintings of Ned Kelly by Australian artist Sidney Nolan (1917-1992). In style, Skittle relates to the staged photographs of American artist Cindy Sherman (b. 1954) that depict the artist in the role of both subject and photographer.
Dawson has received degrees in both Fine Arts and Feminist Studies from the University of Canterbury. She has been granted numerous awards and her work is represented in most major art institutions in New Zealand.