Exhibition
Kushana Bush: The Burning Hours
10 June – 15 October 2017
Dazzling paintings that are rich in colour, culture and art history
In Kushana Bush's meticulously detailed, stage-like world, religious themes blend with secular narratives, often manifesting in ritualistic violence. Her grand narrative constructions examine what spirituality, ritual and community might mean in a contemporary world.
This new body of work from 2014–16 is rich with detail – each surface of gouache and gold is filled with references to illuminated manuscripts, Persian miniatures, European art history and modern life. These disparate sources bind Bush's works to both the past and the present; the historical and the contemporary. Human interactions, humour, dramatic tension and intimate scale are her tools to draw viewers into a private conversation and, in some cases, a spiritual space.
Curator: Lauren Gutsell
Exhibition number: 1032

Contemporary Art Partner
Related
Director's Foreword
Sometimes I feel inordinately proud of this gallery and especially of my colleagues. I wonder if it's unreasonable or otherwise questionable. However, as I write, I don't think so.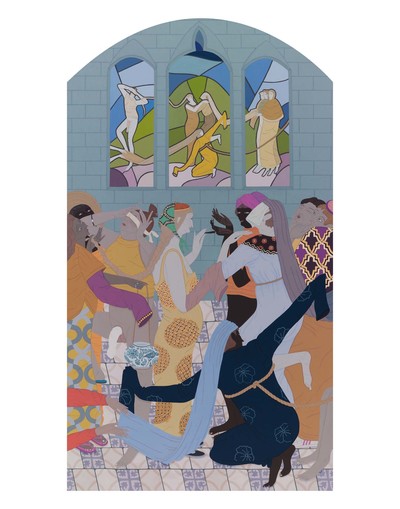 Observing Rituals
Kushana Bush is a Dunedin-based artist, whose meticulously detailed and stage-like worlds blend religious themes with secular narratives, often manifesting in ritualistic violence. Her paintings examine what spirituality, ritual and community might mean in a contemporary world. She spoke with Balamohan Shingade of ST PAUL St Gallery in February