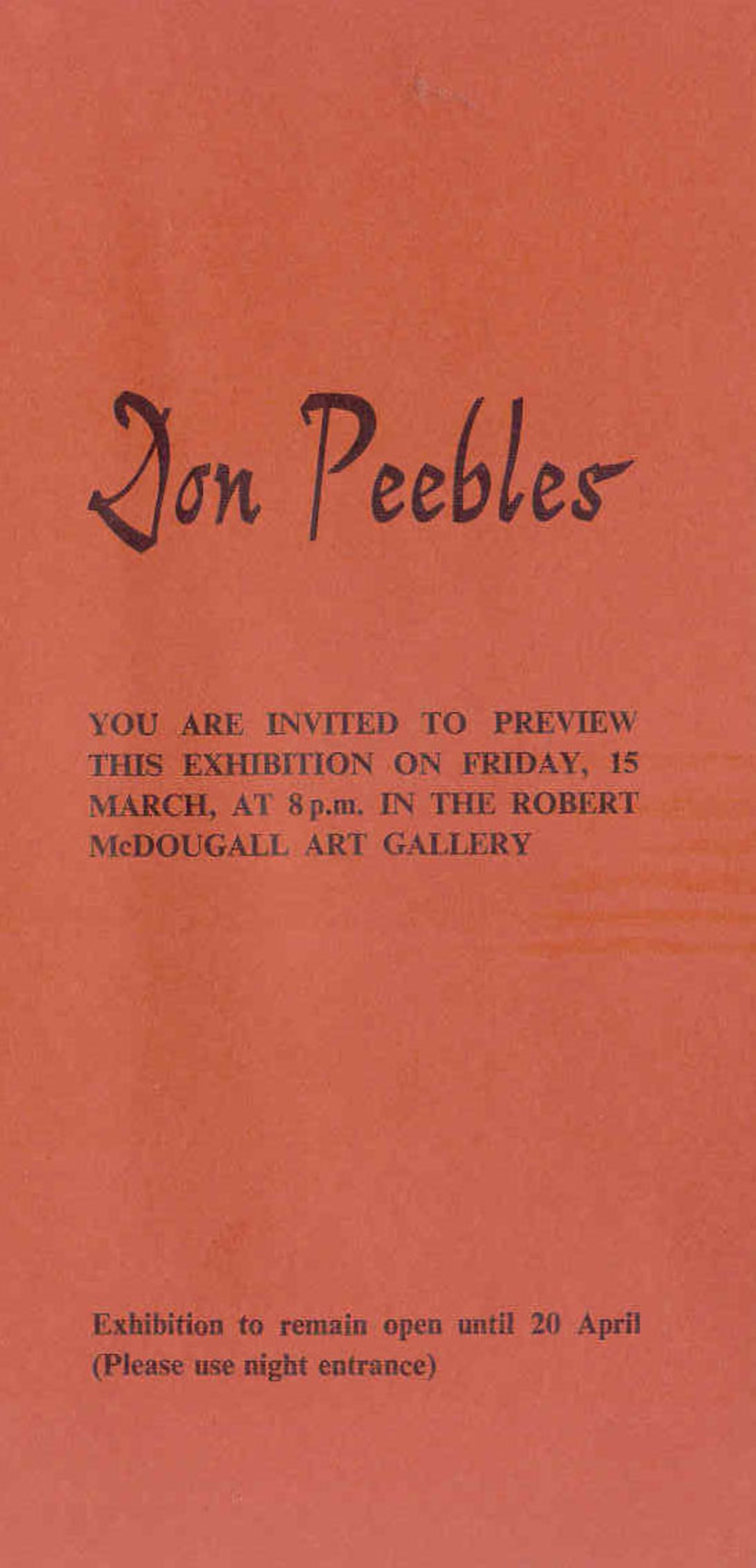 This exhibition is now closed
Don Peebles needs no introduction to Christchurch viewers. For many years he has been a major and influential figure on our local art scene both as an artist and at the Ilam School of Art where he recently retired as a Reader in Fine Art.
With Milan Mrkusich and Gordon Walters, Peebles belongs to the post-war group of New Zealand artists whose approach to painting is essentially abstract and formalist. His paintings, while obviously resisting the use of scenes or symbols to convey a narrative or emotive message, do focus on a clear content. They are centred on the unity of the concrete and tangible elements of form, texture, line and tone.
As to the drawings, it is obvious that it is through the role of drawing that Peebles explores a wide-ranging area of artistic ideas. This touring exhibition of thirty of his drawings executed during the 1980s has been organised by the Bishop Suter Art Gallery with the assistance of the Queen Elizabeth II Arts Council and toured by the N.Z.A.G.D.C.
In it we have a wide selection. Some are exploratory sketches in which Peebles seeks an understanding of the underlying structure or essence of things. These offer some insight into his visual, intellectual and philosophical train of thought.
Others are virtually 'fields of exploration' where, via the ongoing process of a drawing, he notes, records, responds and moves towards forms that will ultimately emerge as elaborate painted works.
Yet others are drawings of ideas for installations, in which the shapes are places, manipulated and rearranged within a half-envisaged half-illusionary architectural space. Some, like Wanaka 1981, are descriptive landscapes economically executed but accurately and sensitively rendered. As T.L.R. Wilson says in the catalogue essay to this exhibition, "Drawing is a bountiful language for Don Peebles. It is a language of great diversity and richness . . . and a self-contained language of philosophical and spiritual speculation."
Along with the drawings on tour the McDougall is planning to exhibit several of Peebles' works held in the Gallery's collection and a number of other works still in the artist's possession. Together with the drawings these will create a rich and rewarding show.
The exhibition will be opened by Tom Taylor on May 10 at 7.30 p.m. and will be followed on Sunday May 22 at 3 p.m. with an illustrated talk from the artist – two occasions which we are certain you will enjoy.
('Don Peebles: Drawings of the 1980s', Bulletin, No.57, May/June 1988, p.3)
Date:


15 March – 20 April 1988

Exhibition number:
407