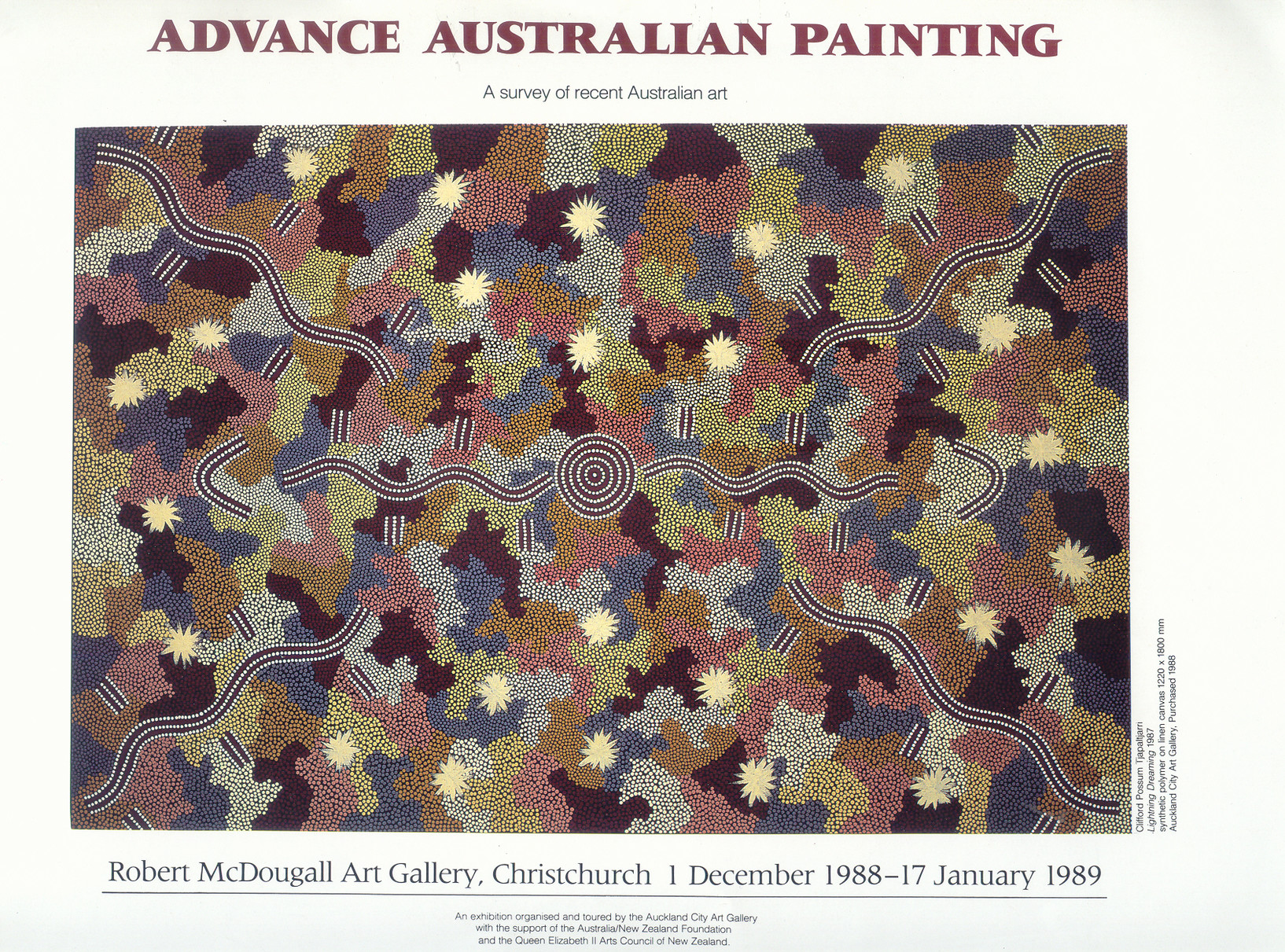 This exhibition is now closed
Organised by the Auckland City Art Gallery to mark their centennial and the Australian Bicentennial, Advance Australian Painting brings to Christchurch one of the most comprehensive surveys of recent Australian art for some time. Andrew Bogle, the curator of this exhibition, identifies two conflicting streams in Australian art. On one hand a deliberate plurality of styles associated with international art movements and on the other an urge to "forge a new, and distinctly Australian art that reflects Australia's unique history, indigenous culture, singular landscape and social ambience". Both, he feels, are evident in the range of works selected for this exhibition.
It has, he says, been curated with a New Zealand audience in mind. Nineteen young or mid-career artists are represented by 2-4 works in a variety of media. Victor Meerten's free standing, monolithic sculptures made from painted roofing iron contrast with the papier-mache reliefs of Paul Boston. Minimalist white-on-white paintings by Robert Hunter show alongside the richly textured 'dreaming-mosaics' of aboriginal artists from the Western interior, Clifford Possum Tjapaltjarri and his brother Tim Leura. These are some of the perimeters of this fascinatingly rich selection put together from public and private collection in five Australian states.
Advance Australian Painting has been assisted by a grant from the Queen Elizabeth II Arts Council and the Australia New Zealand Foundation and is carried in New Zealand by Ansett. It is accompanied by an informative, illustrated catalogue.
('Advance Australian Painting', Bulletin, No.60, November/December 1988, p.2)
Date:


1 December 1988 – 17 January 1989

Exhibition number:
416