Event
View Of Cathedral Square From Hereford Street by James Fitzgerald
ArtBite
Past event
Meet at the top of the stairs
FREE
Join visitor host Nick Priddy as he discusses James Fitzgerald's View of Cathedral Square From Hereford Street in the Above Ground exhibition on the first floor.
Art Bites are 30-minute lunchtime presentations on a single work on display, presented by our staff, guides and guest speakers.
There's a new Art Bite to enjoy each Friday at 12.30pm.
Related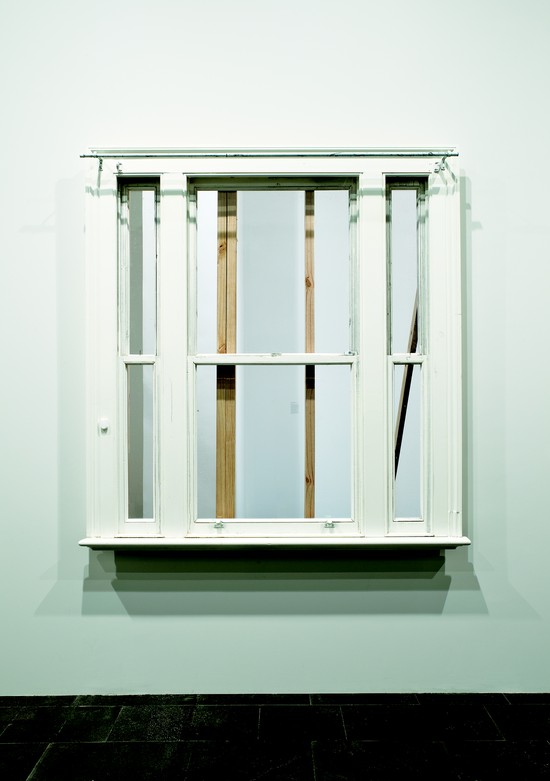 Above Ground
An exhibition exploring the impact of architecture, imagination and memory.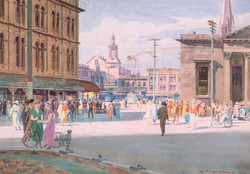 James Fitzgerald moved from England to Auckland in 1903, and then twenty years later to Christchurch, where he established his own commercial art studio. His watercolour view captures Christchurch's Cathedral Square at its most architecturally cohesive and complete. Many will remember the United Service Hotel at left, built in 1884–85, demolished 1990; fewer will recall the neoclassical Bank of New Zealand building at right, designed in 1866, demolished 1963. While it is possible to lament our general cultural attitude to architectural heritage, it is also difficult to imagine anything here, even if it had been protected, as capable of surviving the 2010-11 earthquakes that hit the city.
(Above ground, 2015)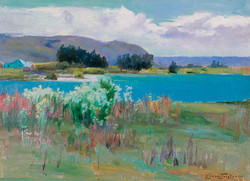 Join art historian Dorle Pauli as she discusses Edward Friström's painting, Lake Wakatipu, on display on the first floor.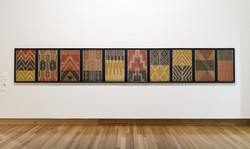 Join Moata Tamaira from Christchurch City Libraries as she discusses the tukutuku panels on loan from Christchurch Central Library as part of Moroki on the first floor.
Join volunteer guide June Goldstein as she discusses Leigh Martin's untitled painting in Yellow Moon on the first floor.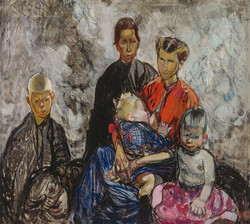 Join librarian Tim Jones as he discusses the recent archival research for works such as Frances Hodgkins' Unshatterable (Belgian Refugees), on display in Closer; Old Favourites, New Stories on the ground floor.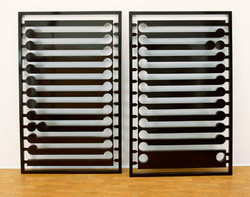 Join art historian Robyn Peers as she discusses Michael Parekowhai's Kiss The Baby Good-Bye (Maquette), on display in Your Hotel Brain on the first floor.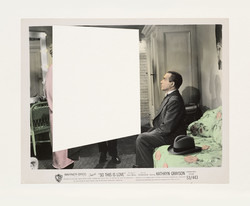 Made from long-forgotten film stills, old actor headshots and vintage postcards, British artist John Stezaker's collages conjure a new world from their 'lost world'.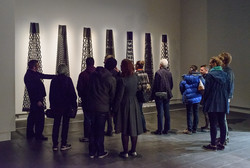 Take a free guided tour of our collection highlights with one of our friendly, knowledgeable guides.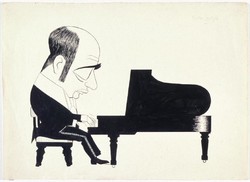 This year's weekly ArtBite programme is about to start! From Friday 10 February, we will again offer a weekly presentation of a work on display here at Te Puna o Waiwhetū. The aim of these 30-minute talks is to give you an art break in the middle of your day. We know you're busy, so this isn't a long lecture meant to take up too much of your time. And they're free. With a new work presented each Friday at 12.30pm, the information will be fresh so you can impress your friends during your weekend socialising.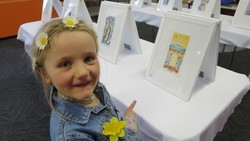 The annual exhibition of Muka Studio lithographs by international artists especially for kids is back!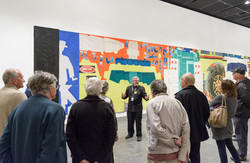 Take a free guided tour of our exhibition highlights with one of our friendly, knowledgeable guides.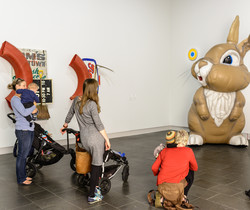 A free, guided art tour especially for parents with babies. Buggies welcome.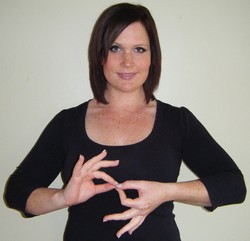 Tour the Gallery with our friendly, knowledgeable guides and a sign language interpreter.