Event
Mervyn Williams: In Conversation
Talk
Past event
Meet at the front desk
Free
New Zealand artist Mervyn Williams speaks with curators Felicity Milburn and Peter Vangioni about his life and work and the remarkable gift he made recently to the Gallery's collection.
Related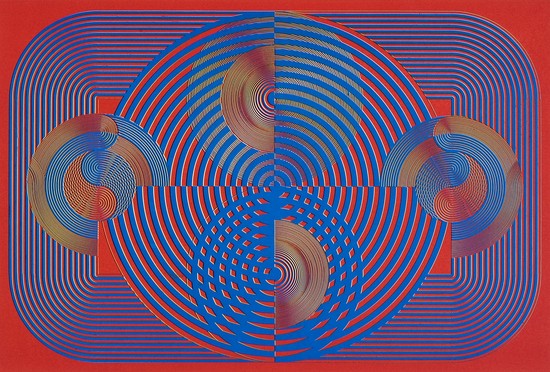 Op + Pop
The influence of two major twentieth-century art movements on New Zealand art.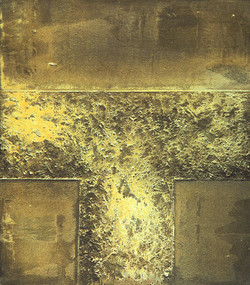 This unique abstract work is a result of Mervyn Williams' intense research into the properties of light, surface, texture and colour. The 'transfigured light' of the title relates both to McCahon's religious paintings and to the rendition of light through an alchemical, painterly process.
Seemingly lit by an intense interior light, the painting appears to be made of anodised metal with a highly textured surface. In reality the surface is smooth, built up slowly with diluted paint. Although abstract, the painting has a strangely realistic quality.
Mervyn Williams was born in Whakatane and his family moved to Auckland in 1944. He trained as a commercial screen printer but at the same time took evening classes at the Elam School of Fine Arts in Auckland. In 1977 Williams went to New York to study contemporary painting. He has used his screen-printing experience to make prints for a number of well-known New Zealand artists, including Gordon Walters (1919 -1995). Williams is one of New Zealand's senior abstract artists.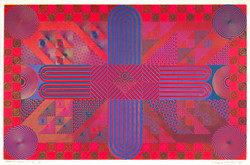 This work is one a series of screenprints, the name of which reflects Mervyn Williams' love of Johann Sebastian Bach's music and also refers to variations in colour. He has said that Chromatic Variations IX can be looked at as if it was a Tibetan mandala, rather than simply being a design. Williams' painting and printing have always centred on formal abstraction. In the Chromatic Variations series he abstracted forms in a complex manner and experimented with different colours in each print. Williams was born in Whakatane in the Eastern Bay of Plenty. In 1956 he met artist Ted Dutch (b. 1928) who got him interested in silk-screen work. Williams studied at Elam School of Fine Arts in Auckland. He won First Prize in the Graphic Section of the Hay's Art Award in 1966 and was represented in the 'International Biennale Exhibition of Graphic Art' in Tokyo in 1966 and 1972. Williams also won the New Zealand Print Council Samarkand Award in 1969.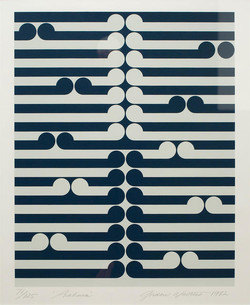 For the exhibition Painters As Printmakers (19 October 2007 - 20 January 2008) this work appeared with this label:
Gordon Walters began producing screenprints in 1969 with printmaker Mervyn Williams, whose skill and expertise proved ideal for Walters' clean-cut, geometric abstract style, including his signature 'koru' works. Then is based on a gouache painting completed by the artist in 1956, which he later successfully reinterpreted into this screenprint.
Walters initially worked as a commercial artist and began painting full-time around 1965. In 1950 he travelled to Europe where he studied the work of Piet Mondrian in particular. His painting style emphasises precisely executed geometric forms, carefully ordered on the canvas. The flat abstract compositions found in Walters' paintings were readily adapted to the screenprint medium. Walters and Williams developed a close working relationship throughout the 1970s and 1980s, producing a total of twelve screenprints together.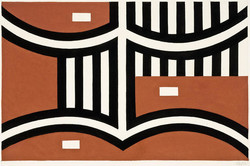 How old is it? Who made it? What does it mean?