Exhibitions
Events
On display
Art About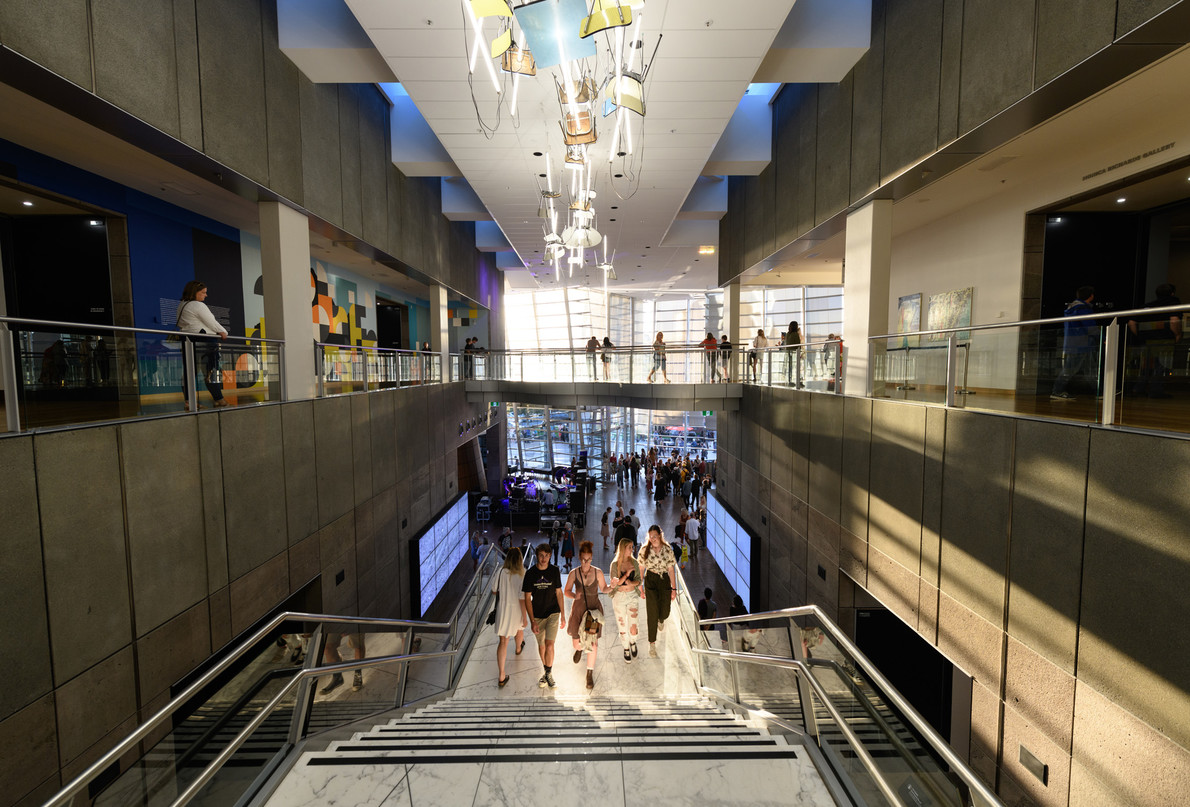 Event
Past event
Christchurch Art Gallery Te Puna o Waiwhetū
Free
A shared late night with all our art neighbours and friends. Exhibitions, events and tours on all evening!
Join us for a colourful celebration of art in Ōtautahi and enjoy an evening exploring the city's art scene and institutions!
Whether you're a novice art lover or a seasoned expert, all welcome!

City Art Depot
96 Disraeli Street, Sydenham, Christchurch 8024
Current exhibition - Works by Trerise, Trusttum and Whitworth
Chambers Art Gallery
80 Durham Street South, Sydenham, Christchurch 8023
Current exhibition - Gareth Brighton, Thomas Hancock, Micaela Irvine: Lighten The Load
• A selection of resident studio artists will be present for the evening.
Christchurch Art Gallery Te Puna o Waiwhetū
Corner of Worcester Boulevard and Montreal Street
Current exhibition - Ralph Hotere, Olivia Webb, Larence Shustak.
• 6pm, Friends Speaker of the Month
• 7pm, Listening: The Body. Drop-in movement workshop
CoCA
66 Gloucester Street, Christchurch Central City, Christchurch 8013
Current exhibition - A Short Run, Ella Sutherland, Culbert Hotere, Ron Te Kawa.
• 6.30pm, Aaron Kreisler talking about the exhibition Culbert Hotere: Post Black
The Den
181 High Street, Central City, Christchurch 8011
Current exhibition - Gareth Brighton and Sam Clague: Formication
Fiksate Studio & Gallery
54 Hawdon Street, Sydenham, Christchurch 8023
Current exhibition - Ghostcat: Shadow Town
Form Gallery
468 Colombo Street, Sydenham, Christchurch 8023
Current exhibition - Katie Gold: Seasonal Swatch
Hot Lunch
227 High Street, Christchurch Central City, Christchurch 8011
Current exhibition - Hard balling it with the big guys: Isabella Dampney & Theo Macdonald
• Free coffee (While it lasts!)
Johnathan Smart Gallery
52 Buchan Street, Sydenham, Christchurch 8023
Current exhibition - Recent Photographs. Exhibiting artists include: Conor Clarke, Peter Peryer, Rob Hood, Nathan Pohio, Sanjay Theodore, Anne Noble, Neil Pardington, Andrew Drummond, Marie Le Lievre, Melissa Macleod and Michael Parekowhai
The National
249 Moorhouse Ave, Christchurch Central City, Christchurch 8011
PG Gallery 192
192 Bealey Avenue, Christchurch Central City, Canterbury 8013
Current exhibition - Simon Ogden: Digging in the dirt for diamonds.
• Simon Ogden will be present at the gallery to chat with visitors and answer questions
The Physics Room
Registry Building, 301 Montreal Street, Christchurch Central City, Christchurch 8013
Current exhibition - Bedrock: Emerita Baik, Maia McDonald, and Nââwié Tutugoro
• Josie Archer will be creating a movement based response to the current exhibition, Bedrock by Emerita Baik, Maia McDonald, and Nââwié Tutugoro. The intermittent performance will move throughout the gallery space from 6-8pm
Teece Museum of Classical Antiquities
3 Hereford Street, Christchurch Central City, Christchurch 8013
Current exhibition - Myths and Mortals: Life in Ancient Times