Purchased, 1991
Cibachrome
465 x 400mm
91/19
1990
Tags: Maori (culture or style), books, cutlery, furniture, knives, koru (pattern), landscapes (representations), natural landscapes, people (agents), seas, seascapes, spirals (geometric figures), tables (support furniture), words
Ruth Watson's work is concerned with semiotics – signs and symbols – so it rewards close examination. Suggesting the consumption of culture, the knife next to the book is just one of many images Watson uses in Small Book to explore the process of accumulating a cultural memory.
These images could be seen to represent the core elements of New Zealand culture, its natural history, Maori culture and the colonisation of both through mapping and language.
Watson was born in Canterbury and graduated from the University of Canterbury School of Fine Arts in 1984. She began exhibiting, both within New Zealand and internationally, in the mid-1980s and participated in the 'Biennale of Sydney' in 1992. In 1994, Watson was awarded an Arts Council Visual Arts Fellowship, which enabled her to travel to Germany as artist in residence at Kunst-Werke, Berlin. Although she moved to Australia in 1995, Watson retains strong exhibition links with New Zealand.
Related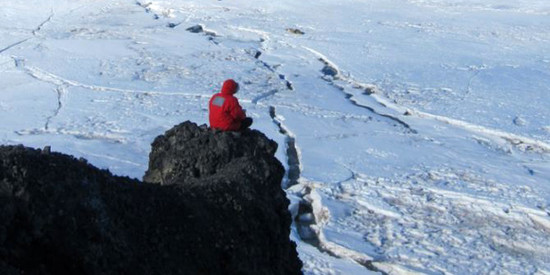 Ruth Watson: from white darkness
Offering a poetic commentary on the intriguing resemblances between art and science, Ruth Watson's container-based video installation combines historical footage, text and her own Antarctic imagery.