Purchased, 2012
Acrylic on canvas
593 x 685mm
2012/048
2012
Related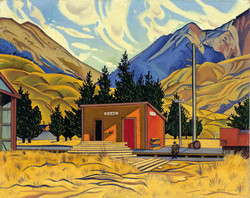 In 1930s New Zealand there was wide discussion about what was unique about the New Zealand situation; what it was that made us different from the rest of the world. Artists and writers began exploring ways to identify our national identity. A number of artists began painting the Canterbury High Country, most famously Rita Angus and her landscape painting of the railway station at Cass. One reviewer in 1936 observed that there was a new quality in the landscapes exhibited in Christchurch that seemed 'to consist in a removal of the romantic mists which used to obscure mountains and the Canterbury countryside generally. The light now is clear and hard, the colours are in flat planes, and the effect is of seeing the country through a gem-like atmosphere. There is also a new romantic standpoint – an insistence on the isolation and brooding loneliness of the hills.' It's a statement that certainly rings true with the Canterbury paintings of Rita Angus, Leo Bensemann, Louise Henderson, Rata Lovell-Smith and Bill Sutton.
(March 2018)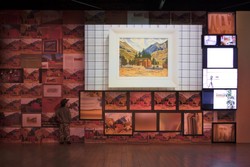 On perusing Thames & Hudson's glossy new art publication, we saw a familiar name.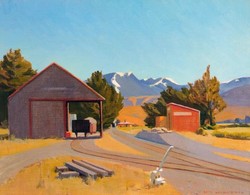 André Hemer's exhibition CASS is well worth a visit if you are near the Christchurch Art Gallery's space above NG on Madras street.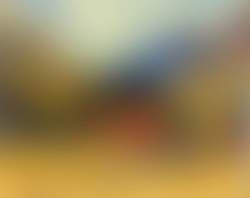 Over 50 iterations of Rita Angus's 1936 painting Cass are collated in André Hemer's new exhibition CASS, which considers ideas of distance, deletion and dislocation.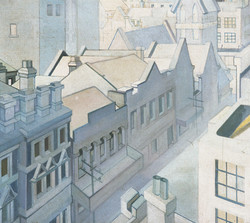 Manchester Street, Christchurch by Louise Henderson was painted in 1929 and shows a streetscape that remained largely unchanged until the earthquake of 22 February.