1948
Oil on canvas
William A. Sutton bequest, 2000
1442 x 1050mm
2000/66
About the artist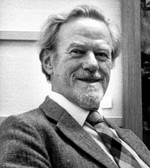 Hillard Graham Batt was a law student in London between 1947 and 1949 and shared accommodation with W A Sutton at London House. He was Canadian and the title refers to Dalhousie University in Halifax, Nova Scotia.
He returned to Canada and worked as a lawyer in Toronto.
The painting can be seen in the background of a photograph of Sutton with fellow artist Dick Lovell-Smith, taken in London in 1948. This photograph is reproduced in the book 'Bill's story' by Pat Unger (Canterbury University Press, 2008).
The painting is also reproduced in 'The Year Book of the Arts in New Zealand', 1948, page 61.