A Lifelong Affair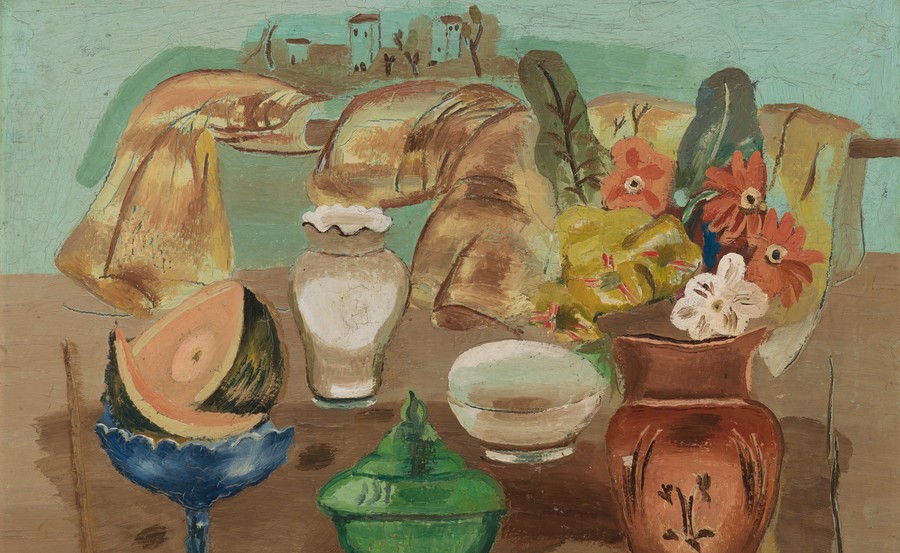 It may have been Rachel Hodgkins' assertion during her daughters' childhood in Dunedin that Isabel would be the painter in the family that drew out the stubborn streak in her younger daughter Frances. And indeed, as the fates were to prove, Isabel, once married, had to put aside her brushes for the most part to care for her family, while Frances, rather than making her way as a piano teacher as her mother had intended, chose a different course. Spurred on by her Italian tutor Girolamo Nerli's descriptions of the bohemian life in Europe and the artistic revolution taking place in certain quarters, she set out for Europe, determined to prove her family's assumptions wrong.
Hodgkins landed in Marseilles in March 1901, and in spite of her journey having been marred by serious illness, one look at the sparkling water, and the port with its colourful houses staggering up the slope of Le Panier, initiated a lifelong love affair with the Mediterranean. Whether it was Saint-Tropez or Cassis or Saint-Jeannet on the French Riviera, the golden pink reflections on the canals in Venice, or the wild, scrub-covered hills and bays of the Spanish Costa Brava and its offshore islands, Hodgkins returned again and again in search of inspiration. Hers was not an easy choice, but from its inception Hodgkins' peripatetic life became essential to feed her creative spirit; her constant desire for somewhere new that would lead her work in new directions, and her ongoing confrontation of what she called "the modern problem".
For centuries European artists had been encouraged to emulate the style and subject matter of those who had gone before them. That changed with Parisian poet, essayist and art critic Charles Baudelaire's 1863 essay 'Le peintre de la vie moderne' (The Painter of Modern Life), which overturned these traditions and took radical thinkers in Paris by storm. His primary thesis was that modern life and modern subject matter, should be the focus of those engaged in creative endeavours – whether describing the café culture that arose out of Georges-Eugène Haussmann's radical rebuilding of the city, or the matters of the heart that afflict the most elegant refugee from France's aristocratic past and the humblest prostitute or flower seller alike.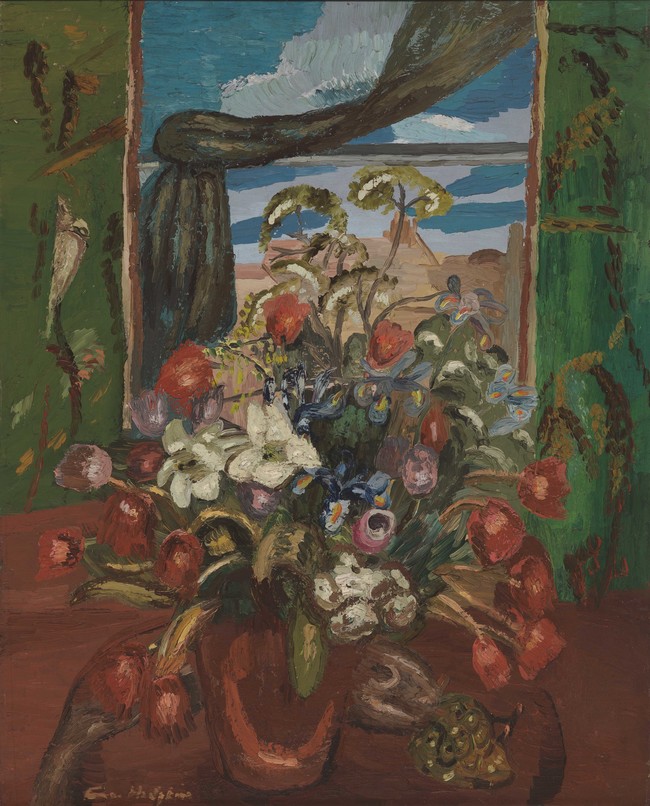 It was a visit to Morocco from the end of 1902 until April the following year that provided Hodgkins with a key to how her art might develop along modernist lines. She became fascinated with the simple cubic forms of local architecture, the play of light on whitewashed walls, and the rich and colourful life that pulsated in its city streets. From that visit her future direction was set – even if she had to flee Morocco when local uprisings made it too unsafe to paint.
For the rest of her life, apart from during both world conflicts, Hodgkins moved at least six times a year. And although she ultimately learned to pare down her luggage (in 1902 she and her companion Mrs Ashington had watched in consternation while local Arabs fought their way ashore in Tangiers clutching their ten trunks), she also had to accept that she could take very little back to her particular base of the time, whether a rented studio or a kindly friend's spare room. While her love of still-life objects developed early on – she bought masses of hand-painted ceramics in the French markets – to her chagrin inevitably they failed to survive the rigours of their journeys. The period from 1908 to 1912, when Hodgkins could finally afford to live in Paris, was pivotal in her development. While she taught watercolours in an impressionist style – her own impressionist watercolours found her a ready market in Australasia – she also made more radical experiments with colour in response to the post-impressionist wave that had taken the Salon d'Automne by storm in 1905. She became the first woman watercolour teacher at the Académie Colarossi, before setting up her own school in one of the studios of 21 Avenue du Maine. Her letters recorded how she encouraged her students to confront the radical new movements – fauvism, cubism, futurism – that could be studied in the few modernist galleries set up in opposition to more traditional art institutions. Her works demonstrate her knowledge of Mary Cassatt, Berthe Morisot, Georges Braque, Pablo Picasso and Pierre Bonnard, among others.
And it must have given her some small comfort that while Morisot and Cassatt's impressionist works proved popular, many of the experimental artists working in France found the public were not yet ready for more radical forms of painting.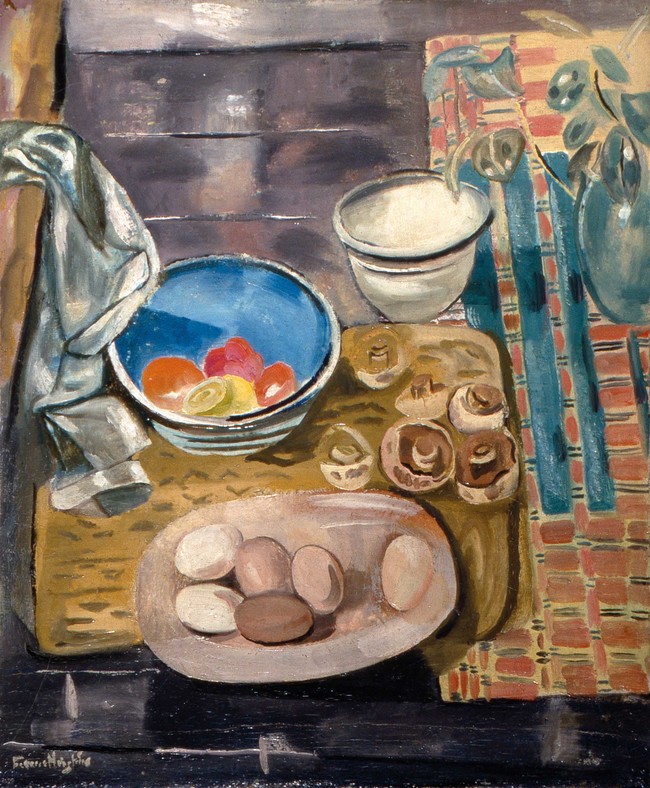 After a very successful trip to Australasia in 1912–13, Hodgkins returned to Europe. However, storm clouds were brewing, and once war had broken out in 1914, Hodgkins was forced to return to England. She spent the war years in St Ives, Cornwall, honing her skill as a portraitist in order to make ends meet, as artists were banned from painting out of doors. She also developed her skills painting in oils, something begun in Paris in 1908. St Ives gave her stability, for she was surrounded by fellow artists, and as always she readily made friends with those of a like mind.
Her life was marked by a determination to overcome adversity. She wrote to her sister Isabel in 1921: "If you have any ideals & are sensitive then you are dedicated to a life of Poverty & suffering. If you are born so – then you just go on enduring the racking struggle – on the surface – but within & above & beyond you lie the rewards of the spirit."1 The early twenties sorely taxed her resolve, for money was scarce and many people could not afford the luxury of acquiring paintings at a time of high unemployment and food rationing. Even so, she made several short visits to the south of France, with each visit changing her style slightly, and testing her vision and painting technique. It was her idiosyncratic juxtaposition of traditional still-life objects in the landscape, rather than in an indoor setting, that ultimately made her reputation as a modern artist in England. In the exhibition Frances Hodgkins: European Journeys, there are three works that demonstrate clearly her process towards innovation. In Still Life with Eggs and Mushrooms (c. 1929), Hodgkins paints a still life on a terrace, boxing in the objects on their little table with a wall on one side, and a slatted chair on the other. We look down on the objects, which are animated by the sleeve of a white shirt flapping over the railing to the left. This is the first example found so far of her use of fabric to animate a static scene.
In Vase of Flowers (c. 1929), the still-life display is set on a table in front of an open window, and it is only on closer view that you notice that the curtain falls from outside the window rather than inside the room. Finally, in Still Life (1929) the two motifs are combined. Her favourite vases and fruit dishes are placed on a tilt-top table in the landscape, and a viridian curtain hangs surreally from the sky above.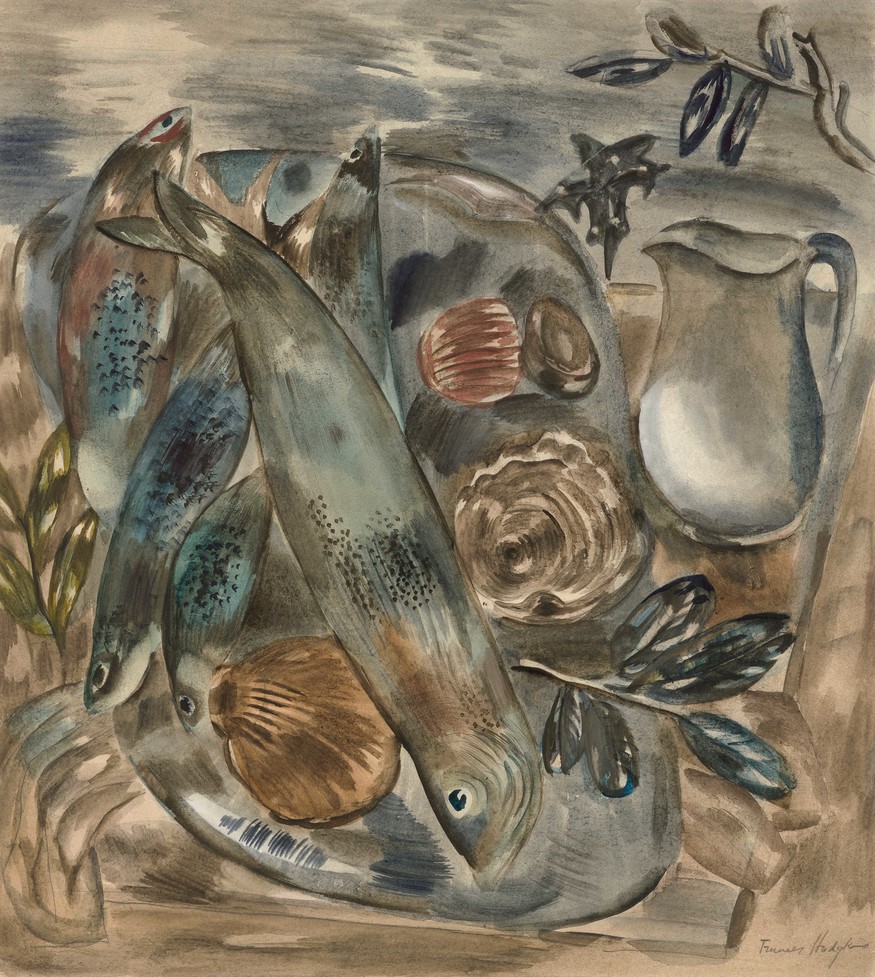 Five and a half months spent in Saint-Tropez in 1931 proved the culmination of her experiments with fabric. Using solid planes of colour and much smoother brushstrokes that in the earlier examples quoted, she produced a remarkable series of oil paintings of still lifes in a landscape in which fabric becomes an animating factor, weaving over and around abstracted pergolas and supports, or laid out on the ground like a carpet. In Christchurch's Still Life (c. 1932) the cloth winds its way round and round a metal or wooden support, serving as a break between the jugs and ornamental dishes that crowd the table in the foreground and the stylised white houses in the background. By contrast, in Still-Life, Fish and Shells, a watercolour painted around the same time, she has dispensed with the cloth, but has tilted the plate so that the fish seems to be dancing on its head. Hodgkins had found her métier, and it was to take London by storm – not bad for a woman of sixty years of age. During the 1930s, Hodgkins exhibited with the Seven and Five Society for several years, as well at the Arthur Howell Gallery and the Wertheim Gallery, before being taken up by the Lefevre and Leicester galleries. She proved an important mentor for other modernists including Cedric Morris, Arthur Lett-Haines, Winifred Nicholson and her husband Ben Nicholson. While they often scooped her up when she was unwell, and much has been written about their generosity to her, what Hodgkins gave them in return was a firm belief that an artist could be professional. She was an excellent listener, and many spoke of how important her encouragement was at particular moments in their own development. Each of them remarked on her eccentric, colourful dress, but also her wit, dedication and vitality for life. The writer Rex Fairburn, who met Hodgkins in 1931, described her clothes as having "a strong suggestion of the gipsy", so that he had "a confused mental image of red cloth, and a very full shirt, and some metal ornaments, bangles and brooches and ear-rings... Her personality was more striking than her clothes."2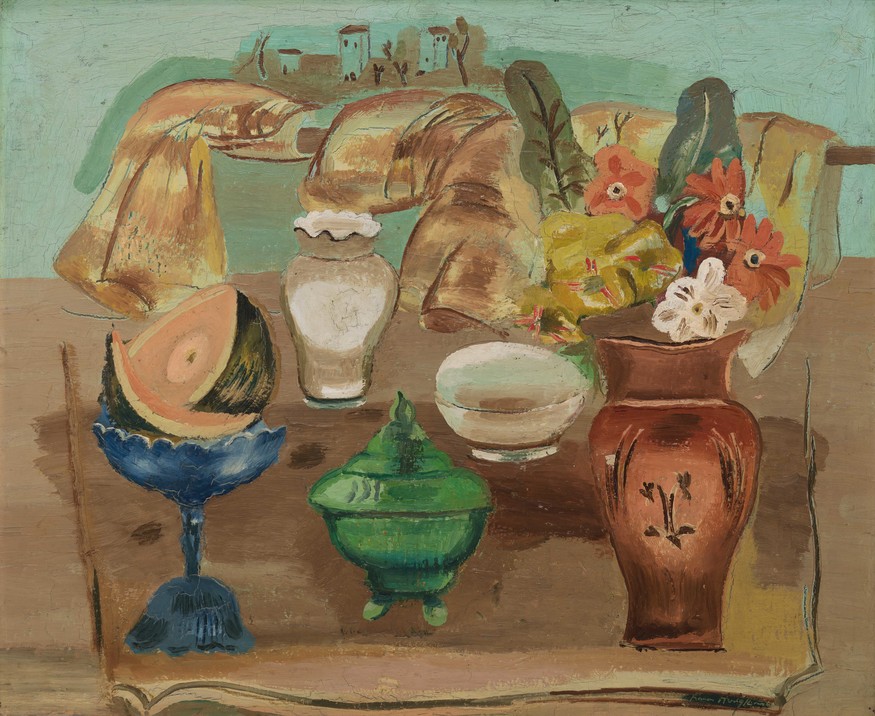 Her two visits to Spain in the mid-1930s brought radical changes in her approaches to subject matter, and although still-life elements remained a part of her oeuvre, she also produced remarkable, pared-back landscapes with a focus on architecture, simplified landforms, and motifs such as twig-like trees or squiggly clouds that animated her compositions. Her watercolours, usually produced en plein air, were products of direct observation, but many of her oils were painted back in her studio in England, their compositions reflecting her practice of painting from memory. Critics sang her praises, not least her colour harmonies, the rhythms in her brushstrokes and her highly individualist style – as one of them noted, you could tell a Frances Hodgkins painting from across the room. This exhibition allows us to partially follow in her footsteps, to observe how her style set her apart. Whether in pencil, watercolour, gouache or oil, her works challenge you to view the world through her own particular lens, and those that take up the challenge find themselves greatly enriched as a result.