Cerith Wyn Evans's Things are conspicuous in their absence...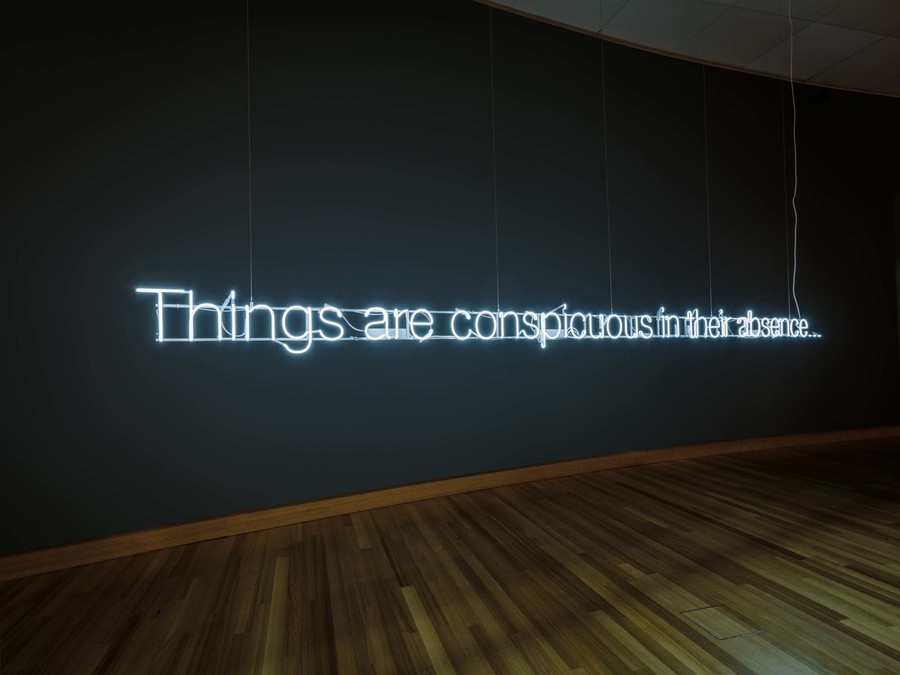 I have never seen an artwork reflect something so true. "Things are conspicuous in their absence" is such an uncommonly heard reflection that it is eye-catching. When things are around us, they seem normal and often go unnoticed; the moment they are gone it can be startling and we wake up.
Some people might think it's crazy if someone has billions of dollars—for the person with the money, it is just the norm, but for those without the means to meet their basic needs, their own lack of money is very conspicuous. It's the same with environmental issues. We are appalled when we see images of plastic straws blanketing beaches and plastic bags and bottles swarming the oceans because it is not what we are used to. But just because we are lucky enough to have beautiful beaches and oceans, we can't forget that we are still a huge part of the problem. We are the ones that ship our plastic away so we don't have to deal with it. And that mountain of plastic becomes the norm for another country. It might be absent from our surroundings, but the problem has not gone away. With the climate crisis, we are already seeing the loss of native species, and that's only going to continue. Animals that we have grown up with and loved will be conspicuous in their absence for future generations. I like how this artwork is a neon sign, like a traffic light. When you first see it, it's so bright it's almost blinding, but when you look again, it's only blinding because it is obvious. It makes us stop and think—what are we not seeing and what are we on the path to losing?