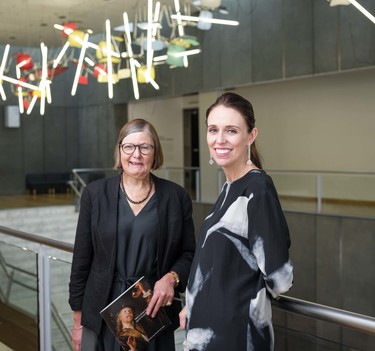 Director's Foreword
Welcome to Christchurch Art Gallery's first Bulletin of 2018, B.191.
In this issue, Roger Collins looks at the Pacific etchings of eighteenth-century French artist Charles Meryon, who sailed around New Zealand on the Rhin, visiting the French settlement of Akaroa in 1843. Meryon continued to create images of the South Pacific throughout his life as exemplars of a possible alternative to the 'social hell of a great European city'.
And Lara Strongman talks to prominent British artist John Stezaker, who is known for his distinctive, often deceptively simple, collages. Resolutely analogue in a digital era, he works with scalpel and glue, slicing images and joining them together in new configurations. Stezaker says his collages are about 'stuff that has lost its immediate relationship with the world' and involves 'a yearning for a lost world'. Stezaker's exhibition Lost World comes to us from City Gallery Wellington.
We also hear from Gwynneth Porter and Ani O'Neill, who talk about the collaborative nature of work. In the Gallery exhibition Yellow Moon: He Marama Kōwhai, O'Neill invited visitors to take part in making her progressively changing work Crater – Creator. Week by week, we watched a giant yellow moon appear in its different phases, its crocheted surface of craters in different tones and shades, pinned and tied beside each other to gradually light up its lunar surface.
Pagework comes from Holly Best, who recently featured in our Devil's Blind Spot exhibition. And by a nicely serendipitous chance, our My Favourite is by Victor Rodger, who finds familiarity and past adventures in another work from that same exhibition, our recent purchase Seta by Ane Tonga. Our Postcard comes from former Gallery guide, Margaux Warne, who revels in some of Paris's smaller museums and galleries.
In this issue also, art historian and curator, Priscilla Pitts, considers trends in collecting for Christchurch's public art collection during my time here as the Gallery's director; and Christina Barton, director of the Adam Art Gallery, writes of working with and knowing me for a number of years. Both articles were recommended by Bulletin's editorial committee and, while I have spoken with each author as they completed their task, they were commissioned initially without my knowledge to mark the end of my tenure as director at Christchurch Art Gallery Te Puna o Waiwhetū.
The last day I shall spend in this amazing position is 29 March, just before Easter and (whether one's beliefs are pre- or post-BCE) it's a time often associated with new beginnings. Reflecting on my years here is both personal and emotional. How could it not be? While I've been in the public service throughout my working life, this is the longest I've been in a continuous role with the same title. Perhaps this says something about the stability of the Gallery as an institution within the city of Christchurch. Certainly considerable change has gone on around us – both within our city and within the City Council which is our consistent and key funder.
One of our primary functions is to care for Christchurch's art collection on the city's behalf. This includes growing it – and through thick and thin we've managed this crucial task. We've fought for funding as good as it can be; we've accepted a range of wonderful gifts and bequests; and we've fundraised for specific pieces we thought would interest our audiences and would be likely to remain an active part of this collection.
I first featured in Bulletin in B.146, but have since written the forewords for a further forty-four editions of this magazine. It is a notable publication, I believe – one which raises our profile and maintains our reputation as an active contributor within our field, especially during the five years we were closed; one which records our history and thinking at the time. It's also an attractive part of the package of being a Friend or supporter of this Gallery. Many people compliment us on it.
But we've also produced more than thirty books, from an Andrew Drummond solo exhibition catalogue early on to Shane Cotton: The Hanging Sky when we were closed, to the celebratory 101 Works of Art as we reopened. We've substantially overhauled our website twice, ensuring that almost every item in our collection is available online, with well over 90% of items now accompanied by copyright-cleared images. The Robert and Barbara Stewart Library and Archives has served us throughout and we'll report on its activities further later in the year.
In many respects, however, the main 'publications' our visitors judge us by are our exhibitions. These have been numerous, memorable, scholarly and accessible; solo and group shows are often based on our collection, but we also attract loans that enhance and expand our collective understanding of the art we've acquired over the years. And we've supported a large range of wonderful artist's projects, inside and on our building as well as beyond. One of the things of which I remain most proud is our visitor numbers. As we approach the fifteenth anniversary of our opening on 10 May 2003, I'm so proud to say that, despite all obstacles, Christchurch Art Gallery has attracted an average of 406,000 visitors per annum. For a city of fewer than 380,000, this is exceptional. And although visitor numbers are but a crude measure of success, we anticipate they will grow as the city renews itself.
When I came here in late 2006, I imagined this would be my penultimate role – but time and circumstance have changed that. Being director of a closed gallery was the hardest job I've ever had! (How naïve I was thinking it might be good coming here to a new building and not having to worry about a building project.) It's wonderful now to know how much better we are placed to confidently face the future. The car park beneath us is operational, the Design Store generates a huge number of positive comments, and we're delighted to have both the Physics Room and a great bar and brasserie in Universo as key tenants.
Naturally some staff have moved on and it was with regret that we were forced to lay off a number when it became apparent we weren't going to reopen for five years, but I've been so grateful for the great core staff group who have stayed with this Gallery throughout my time here. Blair Jackson and Neil Semple started only a week after I did and, joined now by the buoyant Amy Harrington, we've formed the Gallery's management team, guiding Te Puna o Waiwhetū on a remarkable voyage – busy and rewarding, mostly smooth but also incredibly rough at times. Throughout it all, our manifesto, formulated back in late 2010, provided us with a backbone of belief in what we do and why. I leave you with it, and with my thanks and love for all my colleagues:
We're here because good art really matters. We connect people with art, ideas about art and with artists. Their creativity inspires ours. We are crucial to the heart of the city. People identify Christchurch as important because of us and what we do. We're innovative thinkers developing programmes to inspire, excite and remember. We recognise and celebrate the great things we do and we're prepared to question conventions and break rules, even our own.