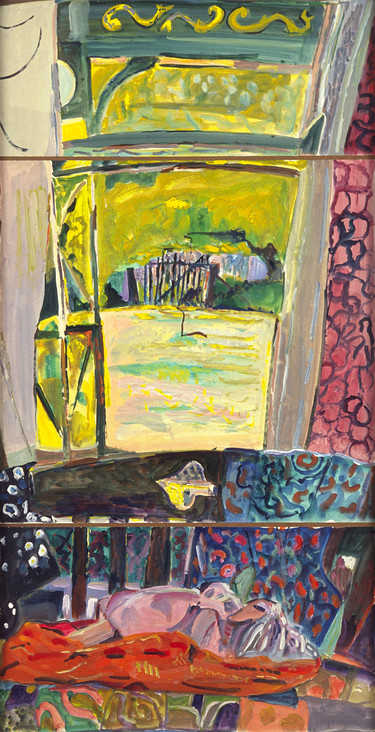 Joanna Margaret Paul's Barrys Bay: Interior With Bed And Doll
I never met Joanna Paul, but I believe that she and my late father, Michael King, were good friends. After my father died in 2004, I found a large diptych frame with a photo of Joanna on one side, and Irihapeti Ramsden on the other; both black and white and young and charismatic—two women he admired greatly who had both died in the preceding year. The frame was folded shut, on top of a bookcase in his study, as if in hiding. I took it down and set it open on his desk overlooking the estuary at Opoutere.
While background googling for this piece, I came across a journal Joanna had written, in which she and Dad sit on a jetty in Queen Charlotte Sound with James K. Baxter and say the rosary. Later, Dad platonically embraces her by a fire—he was a great hugger—and she mentions that he was married at the time to one of her best friends from primary school. So I called my mother and asked her about it. She was surprised, but said it was true; she remembers Joanna as awkward and shy. Mum was a tough tomboy, very physically capable, while Joanna usually got picked last for the sports teams. Mum remembers visiting the Paul household, and Joanna's father Blackwood as a smart man with a large forehead, who was a bookseller and publisher.
The same journal talks about living at Barrys Bay on Banks Peninsula, and describes the house and garden depicted in this painting: '…a graceful & domestic wooden house with verandah all round facing onto a great wide plum tree, a tangle of apples, gooseberries currants peonies & roses.'1
Seeing this painting, and reading the accompanying description, reminds me that it's not possible to separate the domestic and the creative, and nor should we try. It's a comforting thought for someone struggling with both domestic and creative urges right now.
In the journal Paul writes ambivalently of Barrys Bay. She must have felt a profound sense of isolation, despite evidence of deep friendships and conversation. She works, roaming outside photographing and writing, or inside painting, with toys on the floor, while her daughter sleeps. She writes of deliberately tearing a favourite dress 'from hem to breast' in despair; of the birth and then death of her baby and the funeral in Akaroa. In context, the painting, so brightly coloured, becomes almost unbearable to look at.
After Dad died, I took only a small number of his artworks for my walls, including a couple of Bob Kerr paintings, a tiny McCahon sketch, a Toss Woollaston watercolour, and a painting by Joanna Paul called Last Year in the Government Gardens (1993). I love the simple upright figure in white and the rough brushstrokes that depict a game of lawn bowls, with the unmistakable lines of the mock Tudor Rotorua Museum behind. There is something slightly eerie about the painting, set so near the scene of her death ten years later, when she was found unconscious in a pool at the Polynesian Spa. Dad didn't talk about her death much, but I wonder now if he was more devastated than he let on, at least to me.
There was another of Joanna's painting in Dad's collection, a still life called Blue Clappers Sweet Peas—For M. Dad kept it above the desk where he wrote, and it clearly meant a lot to him, which is why my brother and I loaned it indefinitely to the Michael King Writers' Centre in Auckland. Recently I acquired a large framed photo of Dad looking intellectual at his desk some time in the 1980s. Behind him, the painting is clearly visible, so, in a way, I get to have it on my wall after all.
A few years ago my husband and I took the kids to spend Christmas in Dunedin, just for a change of scene. A friend of Peter's hooked us up with her mother's bach on the Otago peninsula, and I instantly felt at home. A number of Joanna Paul paintings hung on the wall, and also some by Janet Paul, Joanna's mother. Spotting a copy of the Penguin History of New Zealand in the well-stocked bookcase, I opened it out of habit to see if it was one of the early editions, from before Dad died. To my surprise I found it was inscribed: 'To Charlotte, with love, Michael.' Years closed, time snapped shut, as it always does when I come across unexpected evidence of my father's presence. Charlotte, it turned out, was Joanna's sister.
The stay in the cottage was both nourishing and melancholy. There were bright cushions and crochet blankets, veggies and wildflowers in the garden. The children played in the rain. We stayed in and lit the fire in December. We looked out the front window to a little gate in the hedge, and towards the quiet sea; a view I see reflected in this painting at Barrys Bay, with its colour and texture; the front gate and its indistinct landscape beyond.