B.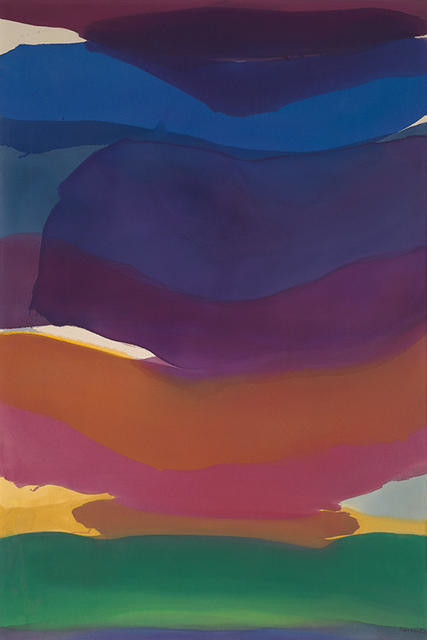 Paerangi / The Fold in the Sky
Te Wheke
The connection between land and sky is important in te ao Māori. In Māori creation, Papatūānuku (the earth mother) was separated from Ranginui (the sky father) by their children, creating Te Ao Mārama, the world of light.
For painter Gretchen Albrecht, the space between land and sky has inspired an extraordinary series of paintings spanning several decades in which she captures the light of the setting sun on the wild untamed beaches and heavily forested ranges to the west of Tāmakimakaurau / Auckland.
In her studio, Albrecht has applied broad, sweeping washes of pure colour – with squeegees rather than brushes – across the surfaces of unprimed canvases laid flat on the floor, stacking horizontal bands of colour to show land, sea and sky in the outstanding light of the setting sun.
Ko tā te Māori, i moe a Ranginui i a Papatūānuku. He mana nui tō tēnei hononga, he hononga pūmau tonu. Heoi, ka taka te wā, ka whakawehea rāua e ā rāua tamariki, nāwai rā, ka hua ko Te Ao Mārama.
Ko te kauwhanga kei waenga i a Rangi rāua ko Papa, koia ko te horopaki i ranga wairua ai a Gretchen Albrecht, i puta ai hoki āna waituhi e mau ana i te tōnga o te rā ki runga i Te Wao Nui a Tiriwā heke iho rā ki Te Moanatāpokopoko-a-Tāwhaki.
I roto i tana whare toi, ka whakatakotoria e Albrecht āna papakōaka mā ki te papa, katahi rā ka whakanikonikohia e a ia ki ngā au kano – ko te hautai kē tana taputapu, kaua ko te paraihe. Ka whakapaepaehia ngā kano hei tohu i te whenua, i te moana, i te rangi, i ngā hī o te rā tō.