B.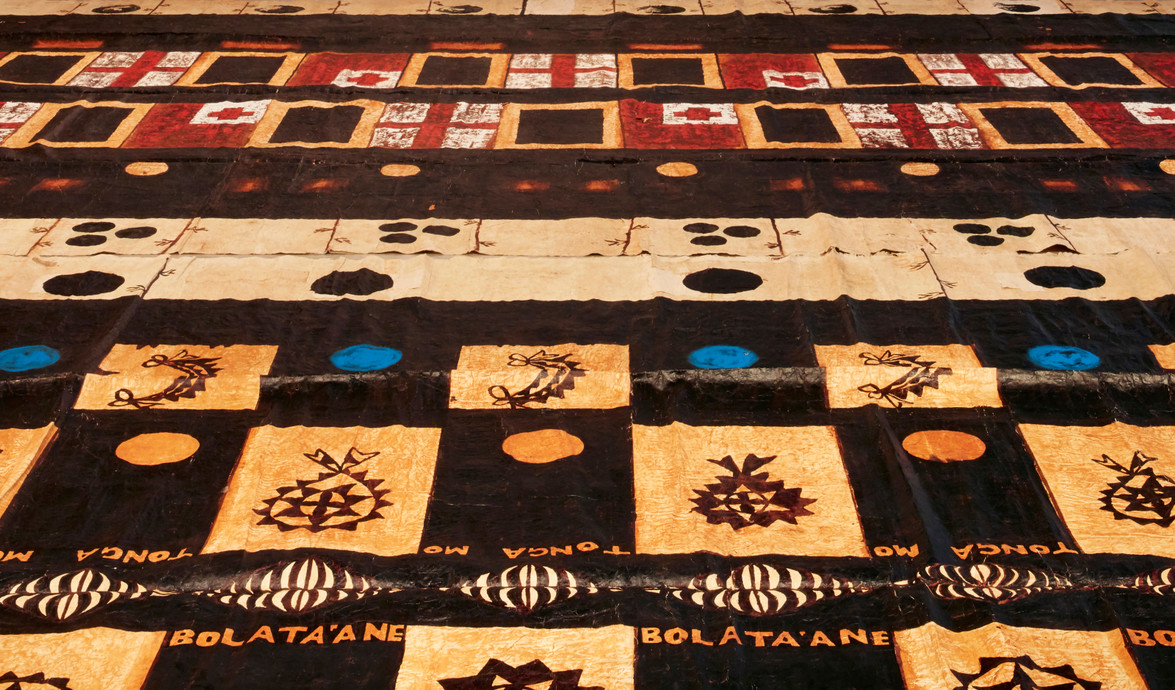 Kulimoe'anga Stone Maka: Toga mo Bolata'ane
Media Release
Following its star appearance in the 2020 Biennale of Sydney, a monumental work by local Tongan artist Kulimoe'anga Stone Maka is on display at Christchurch Art Gallery Te Puna o Waiwhetū from 21 August.
Toga mo Bolata'ane is a contemporary ngatu tā'uli (blackened tapa cloth) work consisting of two large pieces that tell the story of the complex and loyal relationship between Queen Sālote Tupou III of Tonga and Queen Elizabeth II of Britain.
"Toga mo Bolata'ane reinterprets the meeting of these two queens in Tonga in 1953, and reflects on the relationship between these two women, and between the nations they represented," says Curator Melanie Oliver.
"The traditions of ngatu tā'uli are usually used to create works for Tongan royalty, and Stone Maka has drawn on them to create Toga mo Bolata'ane. He's taken both pre-colonial and common designs, symbols and narratives and adapted them to present his own perspective on his connection to his homeland and his experience of migrating to Aotearoa, and what it means to engage with each other in a globalised world."
To coincide with the end of Tongan Language Week, on Saturday 11 September the Gallery will host a family session celebrating all things Tongan, with a focus on Toga mo Bolata'ane and the artist.
2pm
Watch and enjoy a performance of traditional Tongan song and dance, by Fe'ungamalie Study Support Centre and their tutor Vasi Tuaimei'uta.
2.30pm
Taste some delicious food from Le Tautua Atunuu.
3pm
Toga mo Bolata'ane: Hear from local Tongan artist Kulimoe'anga Stone Maka and curator Melanie Oliver as they introduce this new exhibition of monumental contemporary ngatu tā'uli.
2–4pm
Try your hand at Tongan art and language at our activity tables.