B.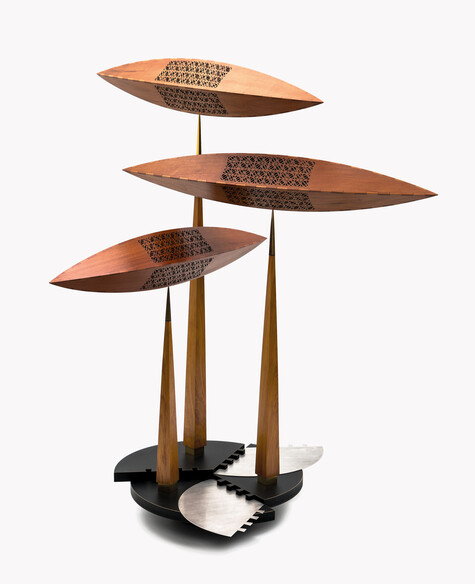 Graham Bennett: Seeking a Balance
Media Release
Come face to face with works of art from across sculptor Graham Bennett's remarkable 50-year career in Seeking a Balance, a new exhibition at Christchurch Art Gallery Te Puna o Waiwhetū opening on Saturday 31 October.
Showcasing a mix of sculptures, drawings and large-scale projections of some of Bennett's larger environmental sculptures, Seeking a Balance lets visitors appreciate their sheer presence and, closer up, the skill, technique and difficulty involved in bringing them to life.
"There are around 40 works of art showcased in Seeking a Balance, and they range in height from 3.5 metres to 10 centimetres," says lead curator Felicity Milburn.
"People can experience Bennett's work in two dimensions as well as three – projecting some of his monumental outdoor works is a creative way of suggesting the full scope of his art practice in one location."
Seeking a Balance showcases works borrowed from local collectors and the artist himself. Viewers can explore a selection of Bennett's tilting, angled and multi-sided sculptures, some suspended and all delicately balanced and finely crafted in steel, wood and stone. They'll also encounter a dramatic room dedicated to some of his latest works, which sound urgent warnings about environmental collapse.
"All of the works in Seeking a Balance reflect Bennett's interest in the human relationship with the land – how it contributes to our sense of belonging and identity, and also how our actions impact the environment," Ms Milburn says.
"In recent years, as he has become more and more concerned with the deterioration of our rivers, lakes and oceans, his work has become a really thoughtful commentary on that."
Graham Bennett's works can be found in high-profile sites across New Zealand, from Sea/Sky/Kaipara at the Gibbs Farm in Auckland, Tribute to Firefighters on Christchurch's Avon River and Reasons for Voyaging, the huge sculpture on the forecourt of Christchurch Art Gallery.
Seeking a Balance presents the work of a significant local artist and is timed to coincide with the publication of Around Every Circle, a book showcasing Bennett's notable 50-year career.
Seeking a Balance is on display at Christchurch Art Gallery from 31 October 2020 to 21 February 2021. People can also join Graham Bennett himself for an artist talk and special tour of the exhibition at 6pm on Wednesday 9 December.
Seeking a Balance is one of several exhibitions in the Gallery's All Art All Summer season, designed to make everyone feel welcome this summer – with more Kiwi families exploring their own backyard, Christchurch Art Gallery is opening its doors to visitors of all ages and tastes. The season will launch officially on 5 December 2020.