B.
Public 'Back the Bull' campaign launches today
Gallery
Today sees the launch of a major initiative that the organisers believe could in time become a key landmark for Christchurch.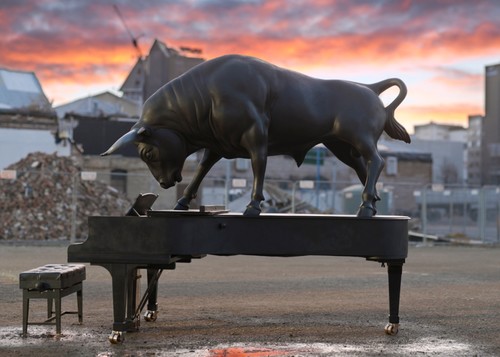 The 1.8 tonne bronze sculpture titled Chapman's Homer (pictured) became a symbol of the city's unshakeable strength last year – and now, with the help of Westpac, Christchurch Art Gallery's Trust is launching a public campaign to bring back the bull permanently.
The standing bull, shown against a backdrop of rubble in Madras Street in July 2012 was made by internationally renowned New Zealand artist Michael Parekowhai for the Venice Biennale in 2011.
It struck a lasting symbolic chord with the people of Christchurch when it was brought here in July last year on its return to New Zealand.
The Trust is asking people to support the 'Back the Bull' campaign by making a donation to PledgeMe, with the aim of raising $200,000 over six weeks to ensure Chapman's Homer returns to Christchurch.
It has linked arms with Westpac in the ambitious project to bring the significant work back to the city. When the target of $200,000 is met, Westpac and the Trust will together match the public donations.
Christchurch Art Gallery director Jenny Harper says this bull will become part of the city's collection of nationally significant art. It will be located in the redeveloped forecourt of the Art Gallery, once the building's earthquake repairs have been completed and it re-opens (anticipated in the latter half of 2015).
'Parekowhai's bull came to symbolise Christchurch as a community, brutalised by nature's power during the earthquakes but coming out of them stronger. Chapman's Homer became a symbol of Christchurch's strength and we would dearly love it to stay.'
The sale of Chapman's Homer will be by private treaty, with the main stream of funding coming through the Trust that was formed in 1991 as a vehicle to raise and hold funds for acquisitions and to ensure Christchurch's collection remains one of the foremost in New Zealand.
Trust chairman Mike Stenhouse is calling on supporters of art and the city's rebuild in Christchurch, no matter whether they are here in New Zealand or overseas, to get behind the campaign.
'We are committed to bringing Chapman's Homer back. It is up there with the gift of Ex tenebris lux made to the city in 1937 by Sir Robert McDougall, who funded the first public art gallery here. It is a work of our generation for now and for those to come.'
Westpac Director of Corporate Affairs Sue Foley says, "Westpac is extremely proud to make this campaign possible as resilience and strength is something Cantabrians have shown time and time again over the past two years so the bull is such a positive initiative.
'Art makes a difference to the way people feel and view the world. After all the people of Canterbury have been through in recent times, it is difficult to imagine a better place in the world for Chapman's Homer on a permanent basis.'
Money pledged through the public campaign will only be taken if the $200,000 target is reached. A great range of rewards is on offer depending on how much individuals and groups donate.
For more information or to make a 'Back the Bull' donation visit www.backthebull.co.nz or www.pledgeme.co.nz
Related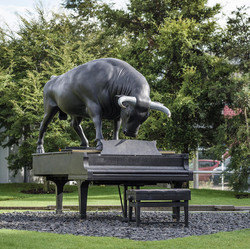 When 'Chapman's Homer' was exhibited at the edge of the devastated central city in 2012, it was positioned between ruin and rebuild just outside the cordon in an empty lot on Madras Street. Our bull stood beside his seated brother while a red carved Steinway piano was played upstairs in an adjacent building. Over thirty days, Parekowhai's work caught the public imagination as a symbol of the resilience of local people. At once strong and refined, a brutal force of nature and a dynamic work of culture, Chapman's Homer resonated with local audiences. Subsequently, a public fundraising campaign kept the bull in Christchurch.
Chapman's Homer was first exhibited in Venice, where Parekowhai represented New Zealand at the 2011 Venice Biennale. It travelled to Christchurch after being shown at the Musée de quai Branly in Paris. Over the past year, we've shown it at a number of sites around the city as part of the Gallery's Outer Spaces programme, including Worcester Boulevard, Placemakers Riccarton, New Regent Street, and most recently at Christchurch International Airport. And now the bull is back – standing strong in its permanent home at Te Puna o Waiwhetu Christchurch Art Gallery, welcoming visitors to our reopening exhibitions.
(December 2015)