B.
An invitation to discover the Outer Spaces
Gallery
While the Gallery doors remain closed to the public, there's still plenty to see outside with Outer Spaces – an ongoing programme of artworks 'outside the box'.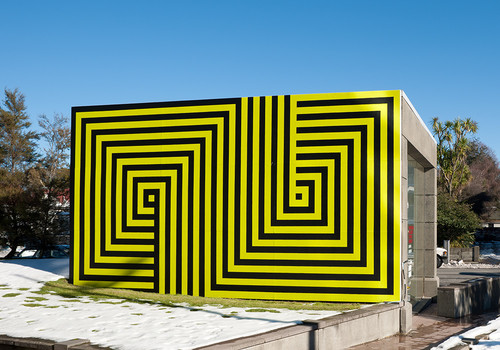 On Saturday 5 November, the Gallery will launch a new initiative called Outer Spaces Tours – a series of guided tours which will take place at 12 noon on weekend days until the Gallery reopens in 2012.
Led by our volunteer guides, these free 45 minute tours will take visitors for an informative walk around the Gallery to look at works including Jae Hoon Lee's Annapurna billboard on Worcester Boulevard, Julia Morison's Aibohphobia on the carpark bunker, a newly installed work on the forecourt titled You Are Here by local artist Matt Akehurst and a new lightbox project on the forecourt related to the forthcoming Reconstruction: conversations on a city exhibition. Other works on the tour include the Gallery's gateway sculpture Reasons for Voyaging by Graeme Bennett and Fayne Robinson's powhenua Te Pou Herenga Waka outside the Worcester Boulevard entrance of the Christchurch City Council building.
Artist Julia Morison will begin the tour on Saturday 5 November with a discussion on her work Aibohphobia and we plan to involve other artists as guest speakers on a monthly basis. Artist Matt Akehurst will speak about his work as part of the tour on Saturday 10 December.
Families will also be able to pick up a free fun trail from the Gallery Shop (which is open for business seven days a week) and take themselves on a self-guided tour of Outer Spaces works around the Gallery with fun questions and activities for the kids.