B.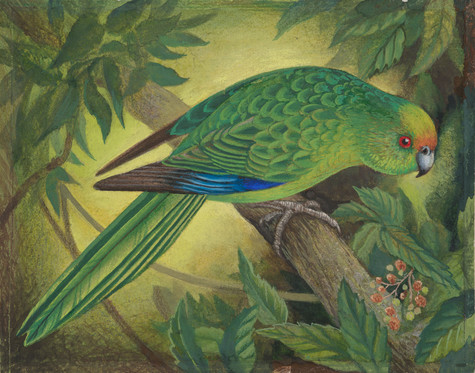 Colouring in: Kākāriki Karaka / Orange-fronted Parakeet
Collection
This small painting is of one of Aotearoa New Zealand's indigenous birds, kākāriki karaka (aslo called the orange-fronted parakeet). It was made by Eileen Mayo in the 1970s along with 34 others for a set of cards that could be collected in packets of Gregg's Jellies.
What else can you see in the artwork? What do you think the bird is doing?
How many different birds can you spot in your garden? Do you know the names for all of them?
There are a number of parakeets among our native birds here in Aotearoa, with different coloured feathers. Download the line drawing of Eileen Mayo's picture here and use different colours to create your own parakeet. What would you call yours?
When you're finished, you could take a photo of your work and ask an adult to tag us on social media (#chchartgallery).