B.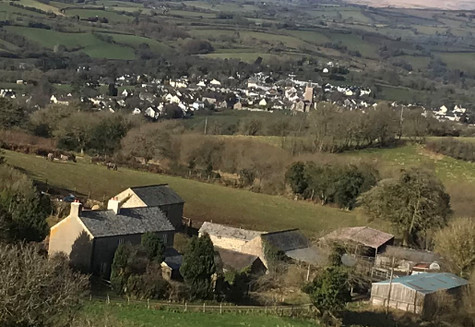 Village life
Collection
Some detective work has put us in touch with the owners of the farm painted by Evelyn Page.
A combination of local knowledge, the online Ordnance Survey maps, the good fortune that the farm depicted is listed as being the home of a herd of prize Guernseys and the kind co-operation of the English Guernsey Cattle Association enabled us to connect with Jon and Ginnie White at South Kingwell farm.
Imagine their surprise receiving an email from New Zealand asking 'Is this your farm?' Well, it was and they have sent photos of the scene as it exists today. In the background you have the high bulk of Dartmoor and in the middle distance the village of Moretonhampstead (Evelyn Page's spelling is unorthodox!). And in the foreground the largely unchanged buildings of South Kingwell farm itself.
Related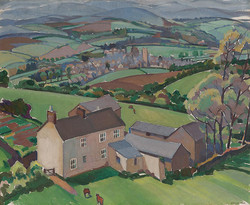 The village of Moretonhampstead lies on the lower slopes on the northeastern side of Dartmoor in Devon. In 1937 Evelyn Polson stayed for a short period at a cottage nearby with the New Zealand composer Frederick Page. Taken from a high viewpoint, this work shows the interest in formal structure and colouring that was evident in Page's earlier works. This painting has little of her more characteristic broad visible brushwork and heightened colours.
Page (née Polson) was born in Christchurch and studied at the Canterbury College School of Art. A working member of the Canterbury Society of Arts, in 1927 she also joined other young Canterbury artists in The Group, formed to give artists a greater say over showing their work. Page spent a year in Britain and on her return she and Frederick Page married. In 1947 they moved from living in Governor's Bay, near Christchurch, to Wellington. In 1966, while travelling on a Queen Elizabeth II Arts Council Grant, Page attended the Kokoschka school at Salzburg.
The title 'Morten Hampstead, Devon' derives from the wording written on the back of the work by the artist. The village depicted usually appears as 'Moretonhampstead' and this is the form used by the Ordnance Survey. However many other spellings can be found: as two words or one, with or without the first e.
The farm depicted is South Kingwell farm, about one mile east of the village of Moretonhampstead which can be seen in the middle distance.