B.
The sloping deck by William Wyllie
Collection
This article first appeared as 'Painting makes up for size in drama' in The Press on 4 April 2016.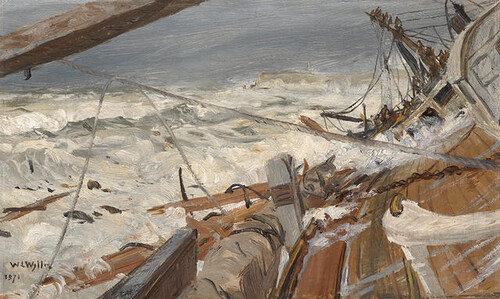 One of the smallest paintings in Christchurch Art Gallery's collection, measuring just 91 x 150 mm, William Wyllie's (1851-1931) The Sloping Deck conveys just as much drama as some of the Gallery's larger oil paintings. It's a harrowing scene depicting a sailing ship being torn apart by violent seas. The ship has been driven ashore by a leeward (onshore) wind where it has come to rest, only to be relentlessly hammered and beaten by pounding surf that surges over the deck. The crew and passengers can be seen crowded along the remains of the broken mizzenmast. They balance precariously, perched above a maelstrom of surging seas leaving one to imagine what became of their fate. Did they end up jumping into the seas and attempt to make their own way to the safety of the shore? Or were they rescued? Wyllie grew up on the Northern French coastline near Boulogne, a coastline that stretches north some 20 miles up to Cap Gris-Nez and well known as a graveyard for sailing ships that were blown ashore by prevailing winds. Wyllie had numerous first hand experiences of many shipwrecks along the coast that no doubt provided the inspiration for The Sloping Deck. In 1869 he bravely swam out to one such stranded ship in heavy seas where he was able to retrieve a rescue line which he then swam back to the shore with, enabling the crew to be rescued. Painted when the artist was just 20 years of age this small study has a vitality and energy that builds on the chaos of the stormy seas and the shipwreck breaking up. Wyllie went on to become a highly regarded maritime artist. His love for the sea and sailing ships culminated in both his art and his interest in sailing. In 1873 Wyllie designed and built his yacht, Ladybird, which he regularly sailed to Holland.
The Sloping Deck was originally in the collection of the wealthy Christchurch building contractor James Jamieson. Jamieson amassed a large collection of art which he displayed in his private gallery at his house on Hereford Street near the Botanic Gardens. The Sloping Deck was selected along with twenty-seven other paintings from Jamieson's collection after his death in 1927 and presented to the Robert McDougall Art Gallery when it opened in 1932. Other paintings selected included examples by Charles Goldie and Petrus van der Velden. The Sloping Deck will be included in the maritime exhibition Reading the Swell when it opens at the Gallery later in the year.