B.
Persimmon (Study of a Racehorse) by Elizabeth Harrison
Collection
This article first appeared as 'A quietly classical presence' in The Press on 19 January 2016.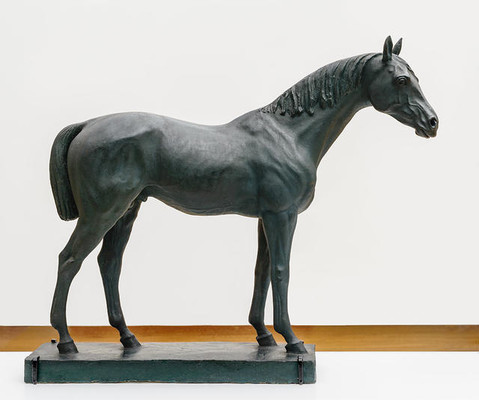 Betty Harrison's impressive Persimmon, a statue of a horse made in about 1930, is currently on display in Christchurch Art Gallery's Beasts exhibition.
Skilfully modelled in plaster and painted convincingly to resemble bronze, it lends a quietly classical presence to the show.
The sculpture was presented to the city's art collection by the artist's niece in 2008, timing that probably ensured its survival, given that its fragile nature is unlikely to have appreciated earthquakes.
The artist born Norah Elizabeth Harrison in 1912, grew up in Dorie, a remote spot in the Rakaia district, the youngest of 13 children of Irish-born sheep farmer William Harrison and Rakaia-born Elizabeth (née Sharp). In her early years, like many at this time, she experienced the tragic loss of a brother in France in World War One in 1917. Betty Harrison's sorrows were amplified at the age of eight in 1920 with the death of her mother, and three years later when her father died. She then went to live with a married sister in Cashmere, and attended Cashmere Primary School for a year, before beginning Saturday morning junior classes at the Canterbury College School of Art in about 1924.
Harrison had no shortage of talent or devotion. She attended the school throughout the 1920s and became a top student, who regularly won prizes for drawing, craft, geometry, design and sculptural modelling. In her final year there in 1930, she won the prize for animal drawing, a subject introduced by Chrystabel Aitken (1904-2005), an older fellow student who also started as assistant teacher to English-born sculptor Francis Shurrock in 1926 (Aitken also spent her childhood on farms, and her striking bronze bull also features in Beasts).
Betty Harrison expressed her love of horses in different media, including also drawing and enamelling. Persimmon may have been inspired by an earlier picture of a famous stud racehorse of that name belonging to King Edward VII. The artist's family retain the memory of this sculpture being highly praised by Shurrock, and it featured prominently in the School of Art's 50th jubilee exhibition in 1932.
Following her art studies, Betty Harrison took up nursing. A photograph of her records a bright faced young woman in the prime of life. Sadly, however, she caught tuberculosis from a patient and succumbed to the (then still prevalent) disease in 1937.
The memory of an artist whose potential in life was cut tragically short has been honoured by her family's gift.