B.
Artist unknown, Classical Figures
Collection
This article first appeared as 'Artist unknown' in The Press on 6 June 2014.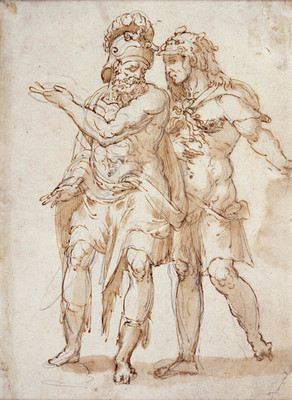 Eminent early visitors to Christchurch included the authors Mark Twain (Samuel Clemens) and Arthur Conan Doyle; Antarctic explorers Ernest Shackleton and Robert Falcon Scott; and playwright George Bernard Shaw. All were hosted during their visits by Sir Joseph Kinsey (1852-1936), an English-born shipping merchant and local identity who with his wife Sarah enjoyed receiving such guests at their large house on Papanui Road or weekend house on Clifton Hill.
Photographs of Kinsey capture a round-faced, jovial man with walrus moustache and ample character. Having donated provisions for Scott's ill-fated expedition to the South Pole in November 1910, Kinsey's generous nature was appreciated by the explorer: 'His interest in the expedition is wonderful and I believe remarkably unselfish, at any rate such interest on the part of a thoroughly capable business man is an asset ... He is a good creature in spite of his pervading personality and his somewhat braggart manner.' In acknowledging risks, Scott also awarded Kinsey his power of attorney. Kinsey received Scott's farewell letter in February 1913, and was the first person beyond expedition survivors to learn of his tragic death.
Next to being a loyal host, Kinsey was a serious art collector. Following his death in 1936, and that of his daughter May Moore in 1954, several public collections benefited from his honed collecting ability and largesse. Christchurch Art Gallery, Canterbury Museum and the National Library hold a vast range of artworks and objects from his collection, many of these bought in England. The Gallery's Kinsey bequest consists of 462 works on paper, ranging from exquisite etchings by Albrecht Durer (1471-1528) to decidedly jazz age modern art such as Christopher Nevinson's etching Lower Broadway (1921).
One of the oldest from Kinsey's collection, a small drawing, has benefited from recent research with input from local and British-based specialists. The sketch depicts two muscular, robed, classical-style figures, one of whom wears a plumed helmet; the other, like the hero Heracles (aka Hercules) a lion skin. Within possible interpretations that exist, it seems intended to convey a moment of exchange, either between mythological figures (perhaps Heracles and King Thespios) or earthly rulers (such as Philip II of Macedon and his son Alexander, or Marcus Aurelius and his son Commodus).
The figures are lightly outlined in graphite and finished in brown ink and light brown wash. Although the drawing is noted as distinctive for its 'wiry, sometimes wayward contour', the artist remains unidentified. It is thought, however, likely to have been made in Lombard, Italy, between 1550 and 1570, connecting to work by artists such as Aurelio Luini or Pietro Gnocchi and strongly to the Roman style then popular in Milan. This in turn was influenced by a growing interest in antiquity due to the wealth of treasures being discovered through archaeology.
A collector's insignia on the back of the drawing shows it had previously belonged to Richard Johnson (1809-1881), a Manchester wire manufacturer who had been responsible for supplying part of the Atlantic cable. Johnson's old master drawings and prints collection was sold in London in April 1912. Just one month before, Robert Falcon Scott had penned his goodbye to Kinsey: 'My dear Kinsey, I'm afraid we are pretty well done – four days of blizzard just as we were getting to the last depot. My thoughts have been with you often. You have been a brick. You will pull the expedition through, I'm sure...'