B.
A moonlit landscape by Sir Alfred East
Collection
This article first appeared as 'Lesser lights' in The Press on 8 November 2013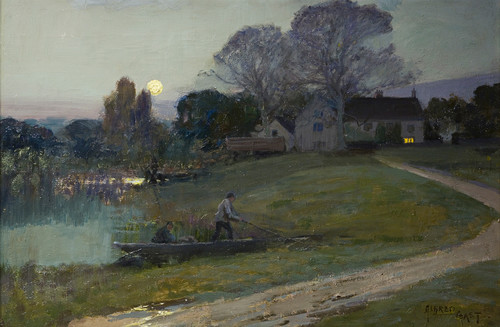 Sir Alfred East died in 1913 and although Verdi, Britten and Wagner are rather claiming the centennial limelight this year, there is a small amount of East activity as well. And this activity: lectures, exhibitions, research and publications has thrown light on this work of ours.
It has been established by Kenneth McConkey that the scene depicted is at Swell, near Stow-on-the-Wold in England. This is not one of the glamour Cotswold villages, like Lower Slaughter or Bibury, but rather, at least when East was there in the 1890s, a regular working village. East visited Upper Swell often and painted this millpond more than once. The Museum of Fine Arts in Budapest for example has a painting depicting almost exactly the same scene, but in daylight, and with the slightly more evocative title 'A haunt of ancient peace.' Both versions depict a scene towards the end of day, with a welcoming light showing in the window and the suggestion that the man in the boat is about to step ashore and is returning home. Autumn and the end of the day were themes that East – and of course countless other artists – worked on extensively, with 'Autumn in England' in the Queensland Art Gallery the most highly developed of East's work on this subject. The Dunedin Public Art Gallery has an etching that may well depict the same buildings.
East travelled widely visiting what might be considered predictable destinations for an artist: Morocco, Brittany, the Lake District, Cornwall, Italy. More unusually he visited Japan and had great success with exhibitions of Japanese scenes.
East was a prolific and highly regarded painter, though the Times obituary writer damned him with faint praise, calling him 'a genuine artist though not a great one', suggesting that he chose scenes to paint that would make a good picture rather than because of any particular love of the place being painted. He was also accused, and remember this was 1913, of being unduly influenced by French art, especially Corot. He had certainly worked and studied in France and the vast majority of his works were indeed landscapes. One of his paintings, 'On the Tewkesbury Road' in the Detroit Institute of Arts, spent the best part of a century with the fraudulently applied signature of Claude Monet until, again, recent research restored East's rightful place.
East also wrote extensively about painting and in fact, acknowledging what he was being charged with, described how he happily moved trees or buildings around, altering contours and shifting elements to achieve a harmonious composition. While on the physical action of applying paint to canvas he had this advice for novices: 'Stand to your work and draw and paint from your shoulder, in a confident and manly fashion.'
(When it appeared in The Press this article erroneously recorded the site as Lower Swell)