B.
A Summer Idyll by James Nairn
Collection
This article first appeared in The Press on 1 March 2006
The arrival of the Scottish artist James Nairn in New Zealand in 1890 is viewed by many as an important event in the history of New Zealand's art history. Nairn brought with him methods and approaches to art which provided fresh and vibrant perspectives to the established, conservative academic styles which had come to dominate New Zealand art throughout the mid to late 19th century.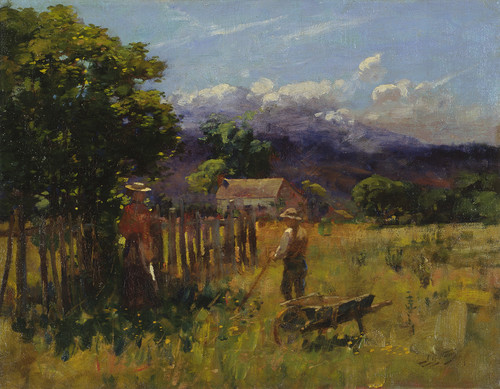 Nairn encouraged the plein air approach to painting, working outdoors, directly from nature and provided an important model as a professional artist for younger artists of the day to follow. He urged his students "To paint as one sees it" and also stated that "One should do three sketches a day - one before breakfast, another before twelve and a third after three o-clock in the afternoon."
A Summer Idyll highlights the impressionistic approach Nairn employed, particularly with the distinctly freer brushstroke than was typical of art of this period in New Zealand. The vibrant and lively strokes of thick impasto paint give the scene a sense of immediacy and Nairn has closely studied the effects of light, atmosphere and colour upon the scene - the dazzle of sunlight on the forms, the dark silhouette of the tree against the sky and the darkness of the cast shadows. In depicting a humble farm labourer at work Nairn has also followed the Impressionist notion of choosing an ordinary, everyday pastoral scene rather than the grand, dramatic mountain and lake scenes favoured by many New Zealand Victorian painters of the day.
Painted towards the end of Nairn's short career, A Summer Idyll is typical of his painting at this time, both in it's toned down impressionist treatment and rural outdoor subject matter. It was exhibited in 1898 with the Canterbury Society of Arts who purchased it and later gifted it to the City's collection in 1932.
Nairn was born in Aberfoyle, near Glasgow, in 1859. He studied at the Glasgow Institute of Fine Arts in 1880 then at the Académie Julian in Paris. He was a member of the Glasgow School of painters (The Glasgow Boys) who were influenced in particular by French Impressionism. The Scottish Impressionists, however, used a modified form of Impressionism which tended towards more subdued colours and more regulated brush strokes, but which still sought to capture the immediacy of outdoor light, particularly the effect of strong sunlight on outdoor forms.
Nairn was active in Glasgow's art circles throughout the 1880s but ill health forced him to seek a more conducive climate. He emigrated to New Zealand in 1890 where after a short spell in Otago and Southland he settled in Wellington. It was here that he made his mark on New Zealand art, forming the Wellington Art Club in 1892. Artists associated with the club promoted a plein air approach and in 1894 they began renting Pumpkin Cottage at Silverstream in the Hutt Valley. This allowed many artists to travel away from the city for weekend painting excursions to a rural location.
It is likely that A Summer Idyll was painted at Silverstream or in Nairn's studio based on plein air sketches. Nairn continued to be an active participant in Wellington art circles and also exhibited his work with art societies throughout the country. His career was cut tragically short when in 1904 he caught a chill while on a painting excursion to Motueka and died shortly after of pneumonia in Wellington.
Peter Vangioni