B.
XXXXXwords
Behind the scenes
Lucky? Hell yes! I'm just back from a month-long stint in Dunedin as the University of Otago's Otakou Press Printer in Residence, where I collaborated with Port Chalmers artist Michael Morley to print a book of his lyrics and linocuts titled XXXXXwords.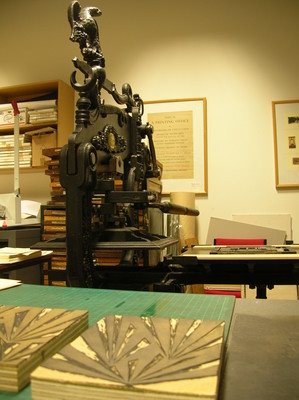 I have long been a fan of Michael's work as both a sound and visual artist... I first saw him play with the Dead C waaaay back in late 1980s and have been fascinated by his sounds ever since. Having the opportunity to work with him on this project was the bee's knees... and we got to print the book on the Otakou Press Columbian, which surely gets a vote for one of the world's most beautiful machines, if there can ever be such a thing as a beautiful machine? This press makes the grade I reckon – 150+ years old and still going strong.
The book includes a selection of nine lyrics by Morley (all handset in 12pt Gill Sans) from the late 1980s through to 2013 and performed with his bands Wreck Small Speakers on Expensive Stereos, the Dead C and Gate. These were illustrated with five linocuts, specially produced by Michael for the project, requiring much stamina from us both to print for the book.
The book is limited to an edition of 100 and is available from Donald Kerr, director of the Otakou Press, which you can read more about here.