B.
Statute of Anne
Behind the scenes
On this day in 1710 the Statute of Anne received Royal Assent, establishing many of the principles of copyright that are still with us today.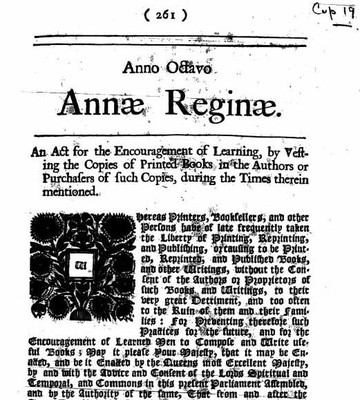 The statue asserted the rights of authors over publishers and formalised legal deposit, whereby a copy of every book published was to be sent free of charge to a number of libraries. Although the number of copies, the number of libraries and the type of material that must be deposited has varied over time, the principle of legal deposit is alive and well in most parts of the world, including New Zealand.
In New Zealand, legal deposit is given legal force by the National Library of New Zealand (Te Puna Mātauranga o Aotearoa) Act 2003.
With almost no exceptions, two copies of every item published, and here item means book, leaflet, card, calendar, DVD, website..., must be deposited.
The purpose, as the Act puts it, is 'to assist in preserving New Zealand's documentary heritage so that it is available, subject to any applicable terms or conditions, for the benefit of New Zealanders.'
And the penalty for not doing so: 'A publisher or printer who, without reasonable excuse, fails to comply with section 39 commits an offence and, on conviction, is liable to a fine not exceeding $5,000.'
In the UK and Ireland, there are still six deposit libraries, in the Faroe Islands you must deposit four copies of everything and in Portugal eight. In France the legislation even covers fragrances, which must be duly deposited - don't ask me how! - at the Osmothèque - Conservatoire International des Parfums in Versailles.