B.
Going down, going up
Behind the scenes
A 'win' in post-quake Christchurch isn't always what you'd expect.
The other week I drove out to the devastated suburb of Avondale with Kirsty, who leads Admin and Business Support for the Gallery. We were planning to go round behind the house on her Red Zoned property to see if we could salvage an old wooden ladder for Sian Torrington's forthcoming project in Avonside. I'd gone along for moral support, because with so much demolition in the area, vandals have been out in force and returning residents never know what (or who) they'll find. As we drove down buckled streets into the 'Residents Only' area, Kirsty (who has resettled nearby and walks past her old house regularly) told me she was glad that it hadn't yet been vandalised, but felt it was only a matter of time. Just then, we heard and saw the digger, which was right that minute tearing her house apart, clawing at the walls and windows with relentless, singleminded purpose.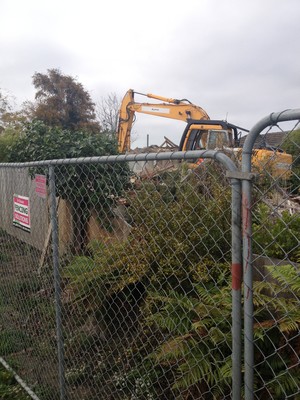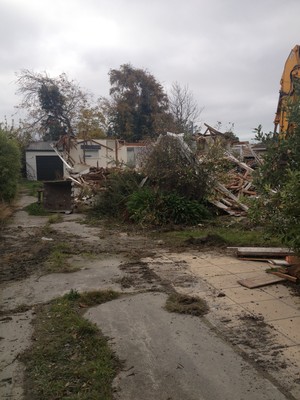 While this was clearly a surprise for Kirsty, it was not altogether an unwelcome one, since the demolition brought to a close the drawn-out Red Zoning process and removed any ongoing anxieties about further indignities the house might suffer. Still, it made it all the sweeter to be able to rescue the old ladder, which was passed up over the protective fences by a helpful demolition worker, who'd responded to Kirsty's 'that is/was my house' with a cheerful - 'yep, it's pretty flat-packed now'. Currently stored in the Gallery foyer, the old ladder will soon grace Sian's installation at 49 Patten Street, where it will join countless other salvaged and re-purposed objects in a work that celebrates the steadfast ingenuity with which Christchurch's residents have responded to the earthquakes.