B.
Lakeside
Behind the scenes
Unsurprisingly, there are some stellar paintings of Canterbury high-country lakes in our collection.
Further north from Heron, just past the Rakaia River is the considerably larger Lake Coleridge, home to one of New Zealand's earliest hydroelectirc schemes, back in 1914 (just a couple of years after Moreton's depiction of Heron, and fifteen or so before Rata Lovell-Smith painted the back-country area near Lake Selfe, pictured below).
Samual Moreton's 1912 watercolour of Lake Heron is in my thoughts at the moment as I've spent much time recently in that region, collectively known as the Ashburton Lakes. After Heron, the next largest is Lake Clearwater....
....which is beside Lake Camp....
....with Lake Emma just nearby.
Indeed, Lake Selfe is one of a few smaller neighbouring lakes to Coleridge, including Evelyn and Ida (which is a fly-fisherman's haven, and prone to completely freezing over in winter, making it a pretty impressive spot for ice-skating). The morning I was recently in the area was far from cold, the rising sun making for some fantastic reflections (almost as good as the ones on Lake Camp pictured back up the page).
Somewhere in between Moreton painting Lake Heron and Lovell-Smith's sojourn to Lake Selfe, Elizabeth Kelly headed west to Lake Brunner.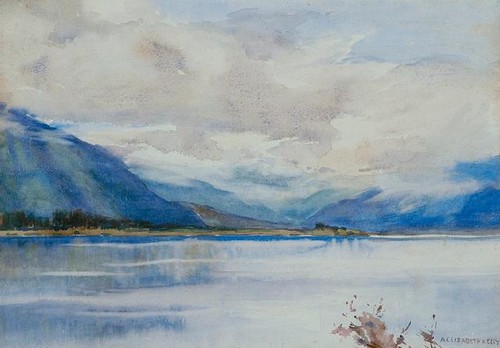 That was 1917 in fact, and my recent visit, almost a century later shows that if you head around to the "Mitchell's" side of the lake, away from the holiday homes at Moana, then not too much has changed.
And finally, though there's no work from the collection to depict the area, it's worth throwing in a photo of Lake Christabel, simply because the day or two I was there was so moody and atmospheric. It's a serious six hour uphill slog into the hut, and the first sighting of the lake comes as a great boost for tired legs. It makes me amazed to think what artists had to do all those years ago to get into the isolated places they did, with paint and canvas and easel in tow, capturing the magic before them for all of us to enjoy.