B.
Unmissable Yellow
Behind the scenes
I saw my first painting by Robert McLeod in the basement of the Robert McDougall Art Gallery.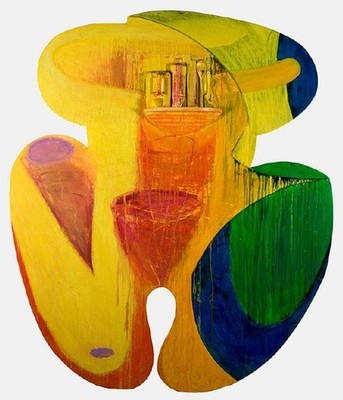 From the back of a denselyhung, dimly-lit collection rack, a square canvas coated in brilliant yellow gleamed out an exhilarating vote of faith in the power of paint, the power of colour. Ever since then, I've been a fan of McLeod's fearless, no-nonsense approach to painthandling, which has evolved over the years from the staunch monochromes of the 1980s to the grotesquely mutated, cartoon-like forms of his later 'cut out' works.
So it was with a sense of anticipation that I walked into the stockroom of Campbell Grant Galleries in February 2009. In many ways it was a sad occasion, brought about because the dealer gallery was closing down after eleven years in the art business. McLeod, along with fellow artists Jennifer Matheson, Kazu Nakagawa and Bill Riley had, with the support of director Grant Banbury, offered to mark the gallery's closure by giving examples of their works to Christchurch Art Gallery, and I was there to make a selection to be considered by the Gallery's acquisitions committee.
As Grant unwrapped, pulled out and propped up each of the McLeod works he had in storage, the well-organised stockroom began to fill with colour and energy. In every direction, curvaceous plywood shapes jostled each other for space, tartan gourds ballooned, cartoon eyes boggled and tongues lolled. It was sensory overload by oil paint, made all the headier by the images I was trying to retain in my mind's eye of the works already held in the Gallery collection—that first, dazzling beauty (Yellow, 1982), the tenacious purple swipes of Mudswatch (another, earlier gift from McLeod) and the bounding extravagance of Monkey Business (1996). The trio that ended up on my wishlist (Yellow, Two Tongues, Ringmaster) represented three distinct aspects of McLeod's practice, but all shared that confidence in the worth of paint and painting that took my breath away all those years ago.