B.
Letter from America
Behind the scenes
Our colleague Nathan Pohio is having a rare old time in Sante Fe, New Mexico.
True adobe buildings are hard to find in Santa Fe, the exterior is often sprayed concrete painted beige, some locals see it as a romantic throw back to the past, I find this notion highly endearing as it looks past the surface towards something more satisfying than looks alone, ideas are where it's at, just ask Duchamp. This is Saint Benedict - Christ in The Desert monastery found 13 bumpy miles off the highway after Ghost Ranch. I believe Peter Vangioni would be very interested to know that the monks are well known for their small brewing company, partly on site and partly up the road. Monks Ale and Monks Wit (Wheat) are not on offer when you show up late! 'Real Beer from Real Monks'. Of course you can also see how much they love their holistic view of life, this is reflected in their central building, their Chapel.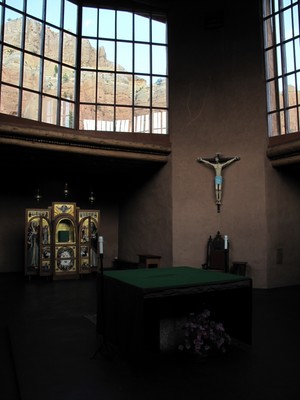 Although my fellow Residents, Mayumi Hamanaka, Marisa Handler and I had no guide we took a quick look around just the same. The area is stunning and the monks have invested in passive solar design among other really intuitive sustainability design details. The area is dry as a bone but a small river provides plenty of green, lets not forget the hops! Inside the Chapel is quite special, modern, apparent sustainability in design, traditional materials and techniques are applied. Clearly a view towards what is 'right' both functionally and aesthetically in a building's conception, design and construction are applied here. A high, circular adobe chamber extended by large vertical glazing and a roof of long thin tree trunks set across the diameter. A modest layout inside and natural light enters through the wraparound windows - this allows close up views of the surrounding cliff faces. Nature enters this interior to provide that sense of religion required of religious architecture, however this is really quite humble, it's the colour of the surrounding earth and its quiet as a building, its amazing.
Fellow resident Marisa Handler quietly started an aria, it was a welcome surprise 'so we could guage the acoustics'...well...it was the malt in the brew for me.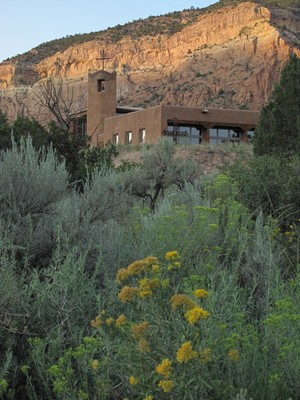 I must thank Ryan Rice, Chief Curator working with Megan Tamati Quenelle Curator Contemporary Māori and Indigenous Art Te Papa Tongarewa and Patsy Phillips, Museum Director at MoCNA, Museum of Contemporary Native Arts Santa Fe. Also Diane Karp, Director of Santa Fe Arts Institute and Katie Avery, Residency Director for their friendship and support.