B.
Reaching for the Sky
Behind the scenes
While the Anglicans get all the headlines, there are other - admittedly less iconic - damaged church tragedies around the city.
The Cathedral of the Blessed Sacrament - commonly called the Christchurch Basilica - is the other major monument to God that has undergone seismic destruction. It has a load of shipping containers propping up its facade, and is awaiting its fate like so many other buildings around the city. None, however, have provoked quite the divisive furore as the broken Cathedral currently being "de-constructed' in the square. It's even inspired Kay Rosen's massive mural on the side of our own building.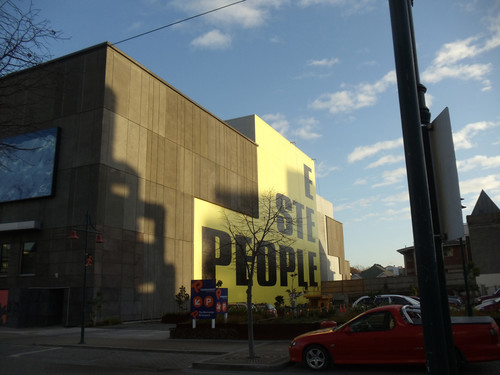 However, spare a thought for the Union Street Church in New Brighton. Just down the road from where I live, I've watched them undertake a years-long fundraising effort to build a new spire for their modest brick church. They had one of those thermometers on the front of the building, charting the upward trajectory of their steadily accumulating funds. Finally, in 2010 they reached their target and built a new spire. As you can see, that is all that remains! The spire was craned off, and the severely damaged church was bulldozed. Presumably this is a the fate that awaits the Christchurch Cathedral....