B.
Oxford Art Online
Behind the scenes
Oxford Art Online has recently added a large amount of New Zealand content.
Oxford Art Online is an amalgam of several classic art reference books and encyclopedias combined into one searchable database. It includes the Grove Dictionary of Art and every art librarian's favourite: Bénézit's Dictionary of Artists.
To celebrate the addition of New Zealand entries, an old favourite from our collection has been placed on Oxford Art Online's start page, exposing it to thousands of art historians, researchers, students, curators and writers.
This vast body of reliable, scholarly information is not, predictably enough, available free of charge. However our good friends at Christchurch City Libraries have a subscription and all you need to use Oxford Art Online is a library card and a PIN – and they won't cost you a cent.
If you don't live in Christchurch, ask your own public, school, college or university library about Oxford Art Online: chances are they will also have a subscription.
Related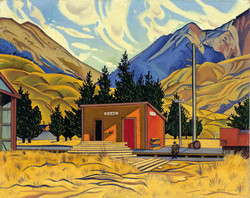 In 1930s New Zealand there was wide discussion about what was unique about the New Zealand situation; what it was that made us different from the rest of the world. Artists and writers began exploring ways to identify our national identity. A number of artists began painting the Canterbury High Country, most famously Rita Angus and her landscape painting of the railway station at Cass. One reviewer in 1936 observed that there was a new quality in the landscapes exhibited in Christchurch that seemed 'to consist in a removal of the romantic mists which used to obscure mountains and the Canterbury countryside generally. The light now is clear and hard, the colours are in flat planes, and the effect is of seeing the country through a gem-like atmosphere. There is also a new romantic standpoint – an insistence on the isolation and brooding loneliness of the hills.' It's a statement that certainly rings true with the Canterbury paintings of Rita Angus, Leo Bensemann, Louise Henderson, Rata Lovell-Smith and Bill Sutton.
(March 2018)