B.
Extraction complete
Behind the scenes
It seems quite some time ago now – almost two years actually – since we were in the planning stages of the Andrew Drummond exhibition Observation, Action, Reflection.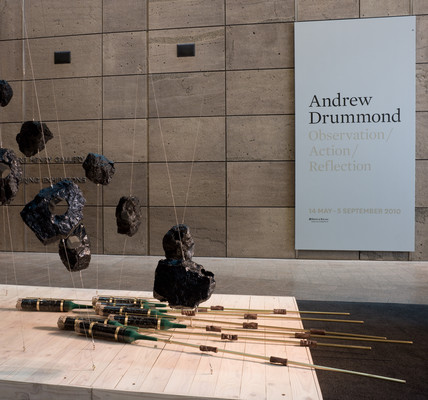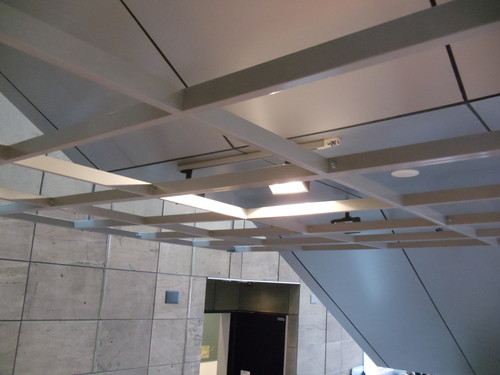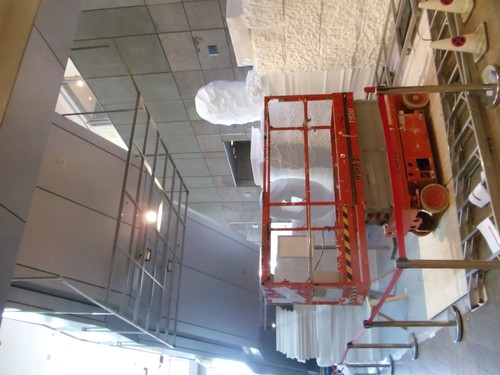 I still remember sitting in Andrew's studio, having a discussion with him and curator Jennifer Hay as we pored over a large-scale floor plan of the exhibition. There was a pretty well-defined draft works list, and while I was as reluctant to see anything dropped from the show as anybody else, the fact remained that we were struggling to adequately fit everything into the space and still offer the breathing room many of the works required. Proving particularly problematic was the newest piece, Place for Incomplete Extractions, which was created specifically for the show. Two large and complicated kinetic works were already allocated to the Gallery foyer, and a chronological approach to the exhibition spaces dictated that this new installation should be at the end of the show – in a room already full of wondrous contraptions.
'Perhaps we could install it under the stairs.'
I regretted it the moment the phrase left my mouth. Andrew and Jennifer both thought it was a great idea.
Of course, a major component of Place for Incomplete Extractions is the mid-air suspension of twenty fibreglass-mould 'coal samples', measuring about 20kg's each. Difficult at the best of times and involving steel cables, tensioners, anchor points, and a large degree of vision (thankfully, this large part was provided by Andrew).
Our downstairs touring exhibition spaces feature a suspended ceiling; a grid of lightweight tiles that disguise a concrete slab one metre above. This slab provides a solidity for dangling all manner of things, whereas the marble staircase features a steel beam encased in concrete, which is also impressively strong, but this is then lined in die-bond panels. They certainly don't offer the strength required to suspend the 400kg's of weight that make up Place for Incomplete Extractions. Suffice to say, this presented a design challenge.
Ultimately we came up with a seven-metre by four-metre suspended grid system, fabricated from steel box sections (by the good folk at Priest Sheet Metals) and attached to the staircase by four pairs of vertical 'arms' of varying lengths. It was powder-coated to match the base of the staircase, and despite the size and heft of the thing, the idea was that it would offer multiple fixing points but largely disappear as an object, and not interfere with Andrew's artwork.
It proved to be such a success that we retained it for the next exhibition, utilising it to house surround-sound speakers, DVD player, and a data projector as we transformed that space into a mini theaterette for the documentary that was centrally placed in the Ron Mueck exhibition.
Of course the gallery has been closed to the public for some time now, and as keen as we are to open again as soon as possible various things have to happen first. One of those things is for our building's structural integrity to be fully inspected by engineers, and this extends to the staircase that we hope people will soon be climbing again to view a revamped Brought To Light. However, to inspect the staircase, the grid had to be removed, a time consuming exercise that also involved moving various components of Peter Robinson's Cache, last seen in the De-Building show, most notably the huge polystyrene monoliths that were temporarily stored under the stairs.
All went well, as I'm sure the inspections will, and though the grid will go into off-site storage for the time being, I suspect it will re-emerge sometime to help instigate another elaborate art project. If so, hopefully you won't even notice it.