B.
Alpheus Aldersley's anniversary
Behind the scenes
Today marks the 118th anniversary of the death of the Rangiora photographer Alpheus Aldersley, who met his maker at Otira while accompanying the painter Petrus van der Velden on a trip to the region in June 1893.
Perhaps lulled into a false sense of security by an unseasonably warm autumn, the pair travelled to Otira in the winter months and camped out in what can only be described as miserable conditions. A number of cold southerly fronts rolled up the South Island during their stay and Aldersley unfortunately succumbed to pneumonia, dying at the George Dyer Hotel at Otira in the early hours of 24 June, 1893.
Very few examples of Aldersley's photographs are known to exist and the images he took on his trip to Otira are yet to be identified. One possibility is that his widow, Ellen, may have sold the negatives to another firm such as Burton Brothers and so they remain un-attributed to Aldersley.
Van der Velden's mighty Mount Rolleston series resulted from this trip with Aldersley.
Related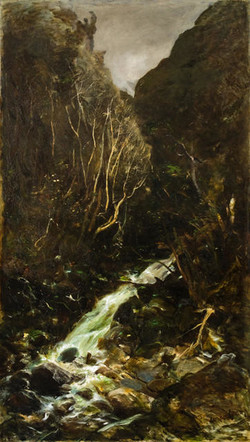 Petrus van der Velden established a successful reputation as a painter in the Hague during the 1870s and 1880s. It therefore is astounding that he gave his career away in 1890 and sailed with his family halfway round the world to Christchurch. Holland's loss was New Zealand's gain, however, and within a short time of his arrival van der Velden travelled to the mountainous Otira region, where he painted some of the most important works of his career. He was captivated by the untouched beauty and ruggedness of a landscape that was so inherently different to what he had known in Holland. He began producing a series of paintings based on a mountain stream at Otira and on his second visit to the region in 1893 painted this small creek at Jacksons just to the west of Otira.
(March 2018)
Van der Velden described his first visit to the Otira Gorge: 'For the first three days I did nothing at all but just looked, it took my breath away.'
The lines between religion and art were blurred for van der Velden, and he often drew similarities between the two: 'There is as much nonsense talked about art as Jesus and because it's the same business nothing is understood. Tell the people sometime that Rembrandt and Jesus have the same meaning; how they would laugh, and yet it is true – Rembrandt made a study of light during his life, and Jesus did nothing else.'
(McCahon / Van der Velden, 18 December 2015 – 7 August 2016)