B.
Mark Braunias at work
Behind the scenes
Artist Mark Braunias is in the building working on a new mural commission for the Gallery.
Entitled The Children's Charter, this 10-metre long work is appearing in the corridor outside the education centre. Gallery photographer John has captured a few shots of Mark at work.
The 'drawing with a long stick' technique is a perennial favourite of the life-drawing class, but I've never yet seen it put to such good effect. (Would-be experimenters with the technique please note: one of the sticks happens to be an ex golf club.)
Related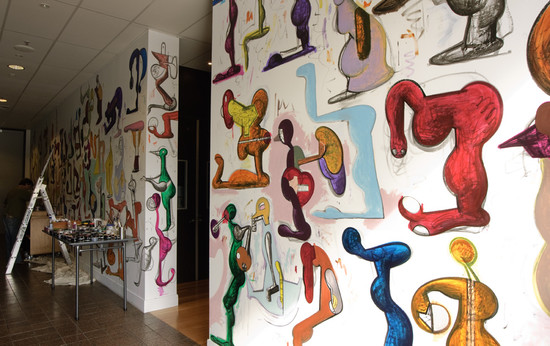 Children's Charter
Mark Braunias lets loose his cast of drawn and painted characters in the Gallery's education corridor.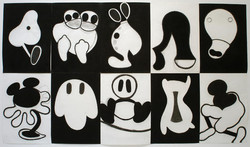 Mark Braunias has applied a kind of speculative genetic engineering to the work of Walt Disney, Andy Warhol and the surrealist Jean Arp, resulting in giant, amoeba-like versions of comic-book characters that appear ready to spring to life. A master of reassemblage and reinvention, Braunias makes his 'quick draw' from a vast cache of popular cultural and historical sources, while applying a quiet dose of wry intent. (Op + Pop, 6 February – 19 June 2016)